To book classes at Sports Hub Fitness Studio at OCBC Arena
Go to SURFSET site on Mindbody online – SURFSET's booking platform.
1. For new Mindbody users, please "Create an Account". Enter your email address and click <Next>. This email address will be your login user ID.
If you are an existing Mindbody user with another studio, please "Create an Account" with us using the same email address.
Returning SURFSET Singapore users, please "Sign In" with your email and password.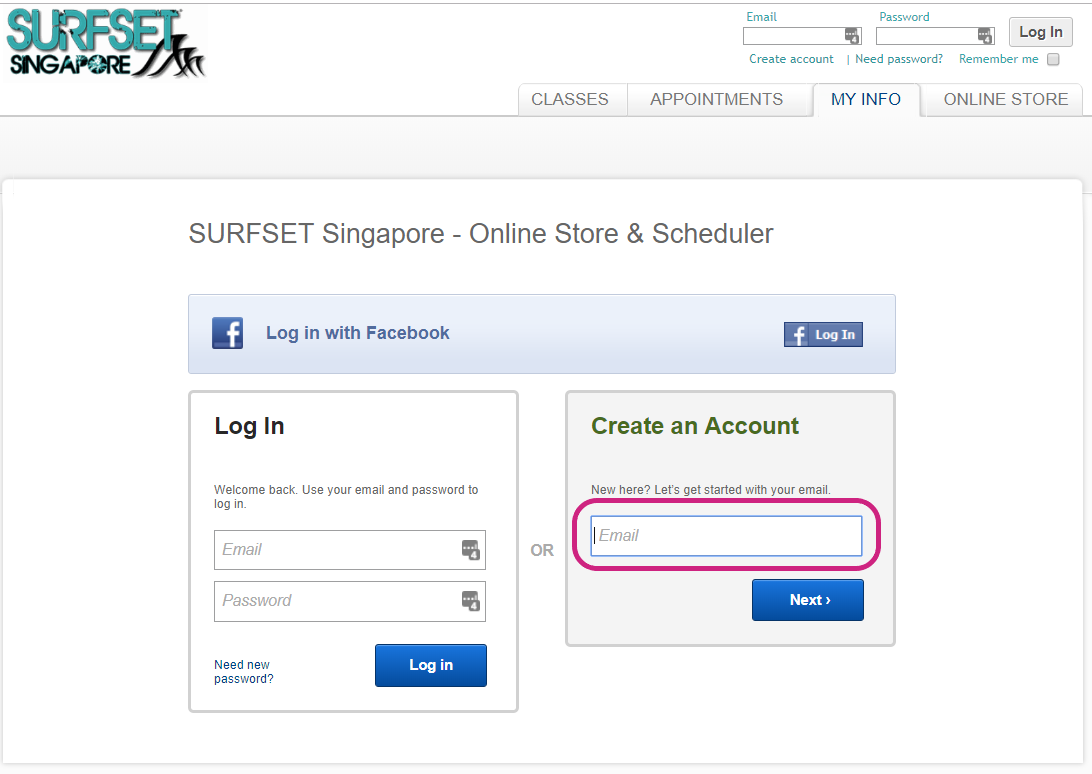 2. Enter the fields required. To receive purchase receipts, please opt-in for emails. To receive promotions via emails e.g. SS1for1, please opt-in for "News and promos".  If you would like to create an account on behalf of your family members, please click <Add Family Member> Scroll down and click on <Create Account> to complete registration.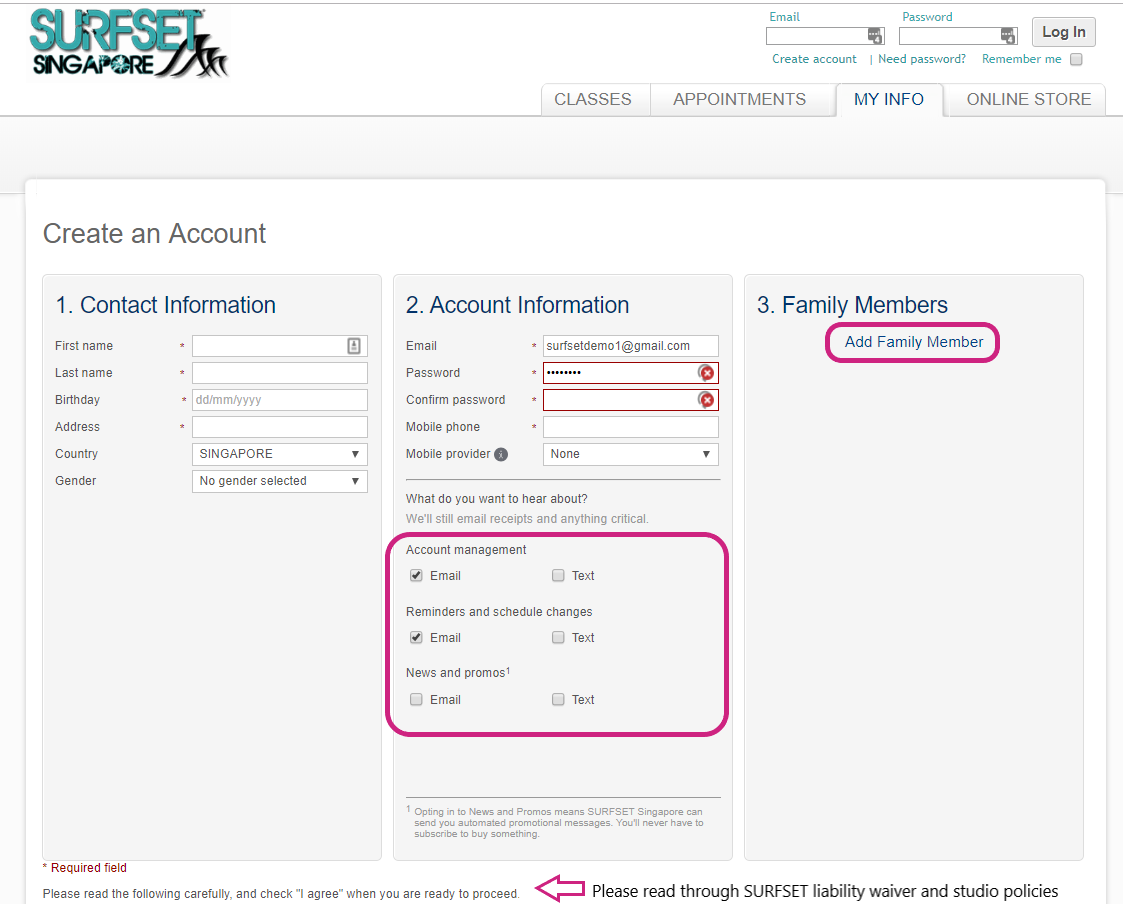 3. To start booking for classes, please click on <Classes> and select the date on calendar. Click <Sign up Now> to book session. First timers, please book a Balance class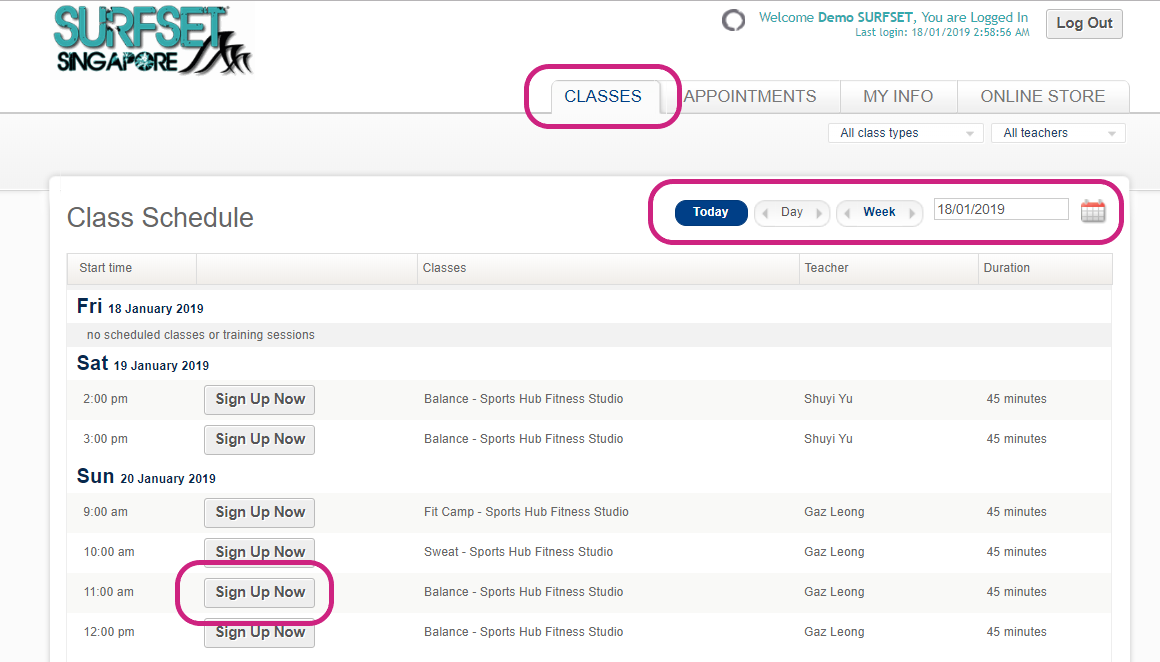 4. Click <Ignore> when zero account balance pop up shows up. For members with existing packages, please click <Ignore> too.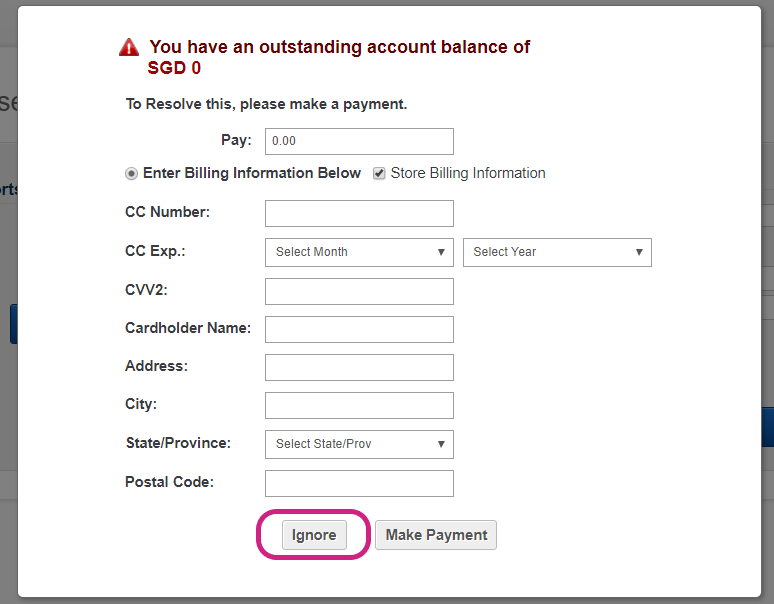 5. Select either <Make a single reservation> or <Make a recurring reservation>. For recurring reservations, please select the relevant fields. Members who have previously bought packages will go to Step 9 after this.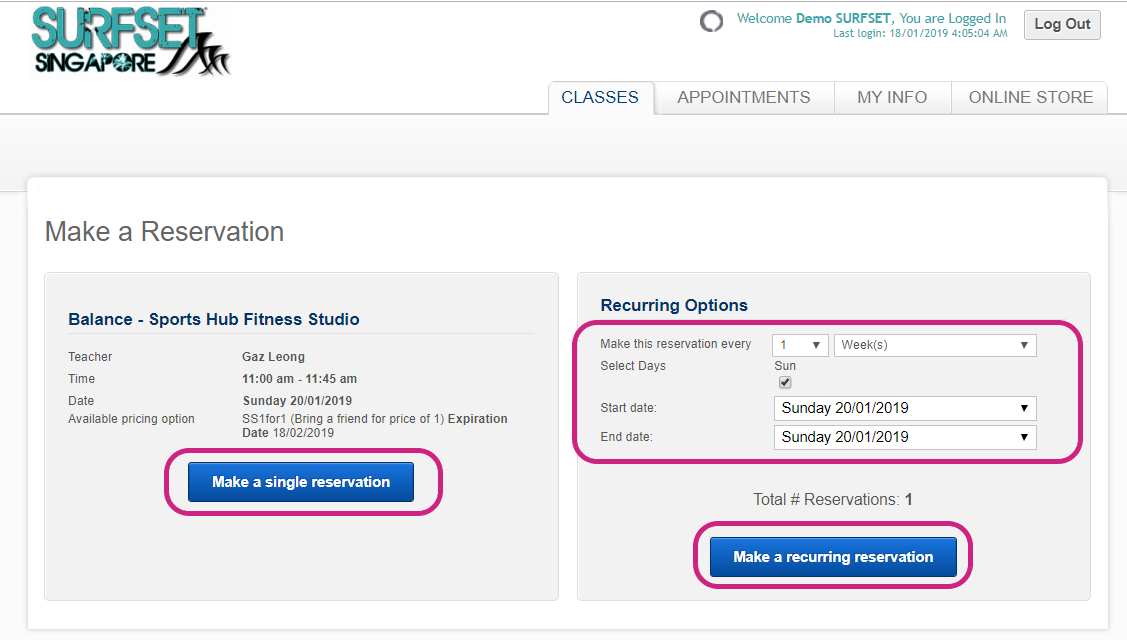 6. Select the pricing option that you would like to purchase. From now till February, Pack of 10 and Buddy pack of 30 can be shared with unlimited number of friends and/or family members. When purchasing SS1for1 (valid for 1 time usage per individual), please ensure that your invitee has also created an account with us on Mindbody as well. We will reach out to confirm reservation. For terms and conditions on promotions, please visit our Promotion Page.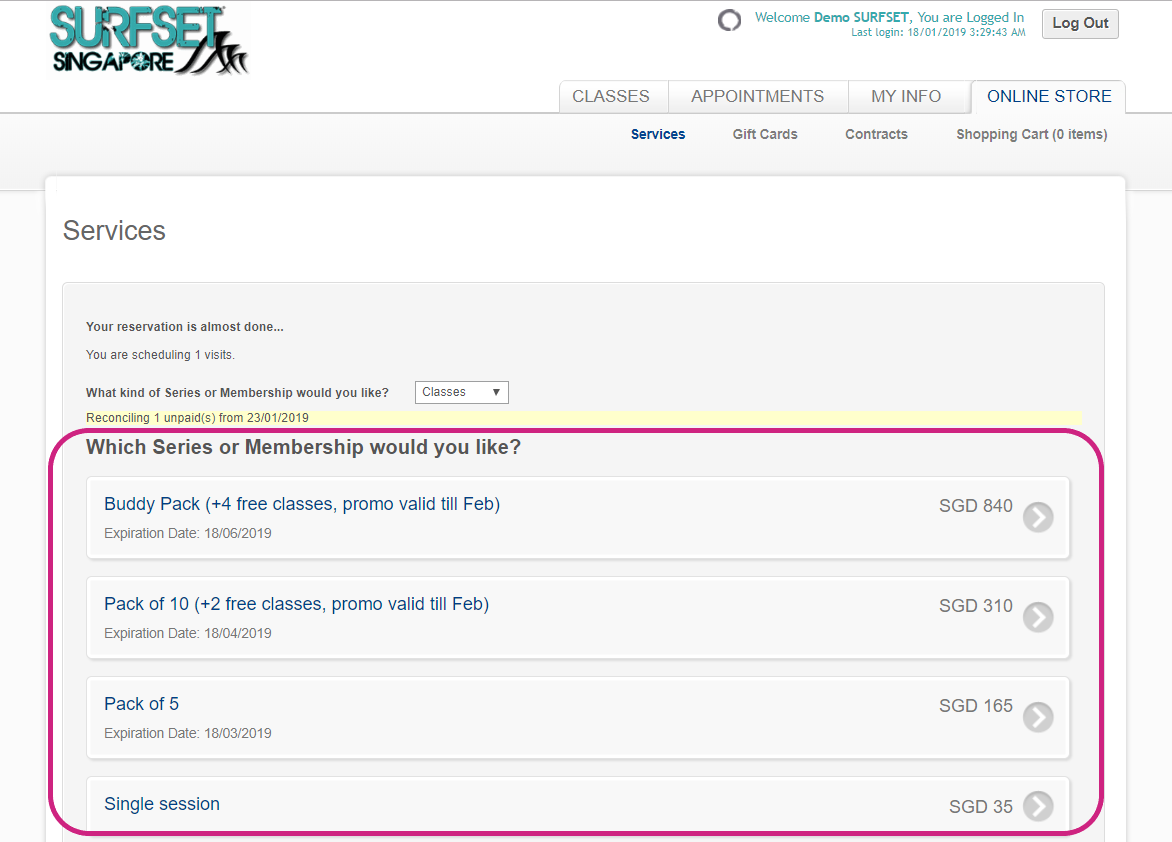 7. Add pricing option that you wish to purchase to cart. If you wish to add multiple items in cart, click <Continue Shopping> to add the next item. Click <Checkout> when done.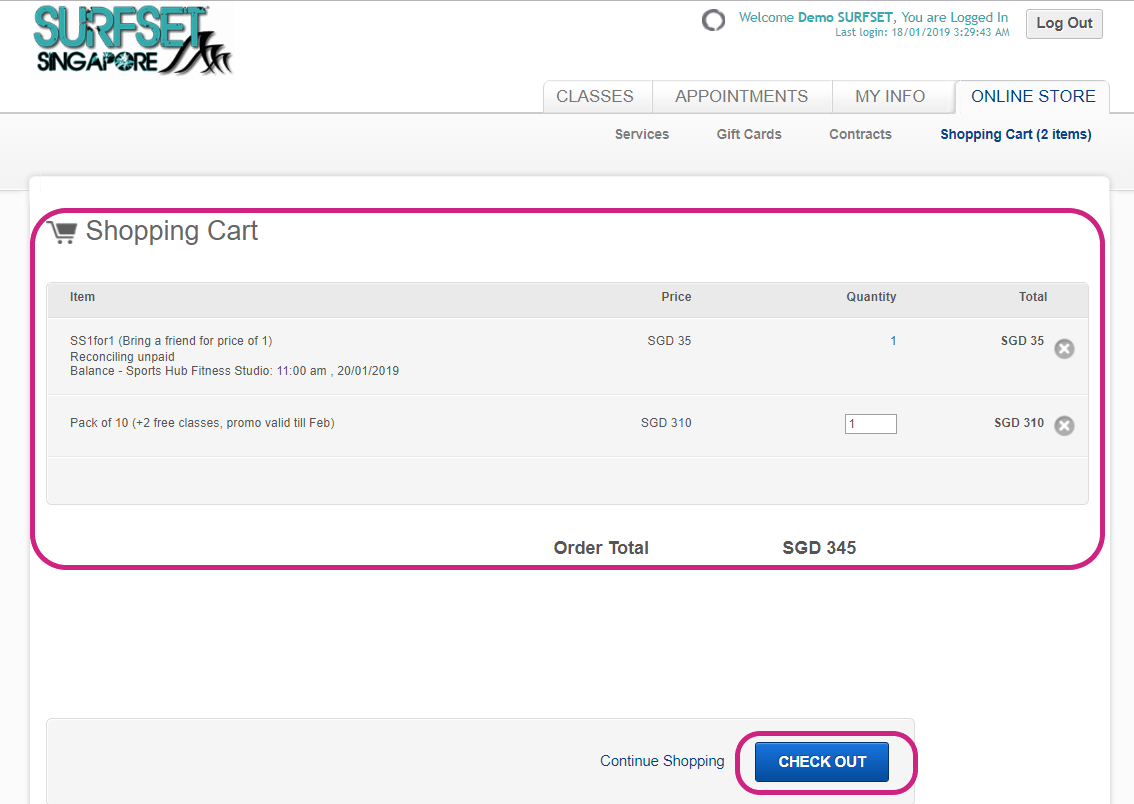 8. Enter <Gift Card Number> if available. Check <Cart Items>. Enter <Billing Information> and click <Place Order> to confirm purchase. Purchase receipt will be sent automatically to your registered email address if notification emails have been enabled.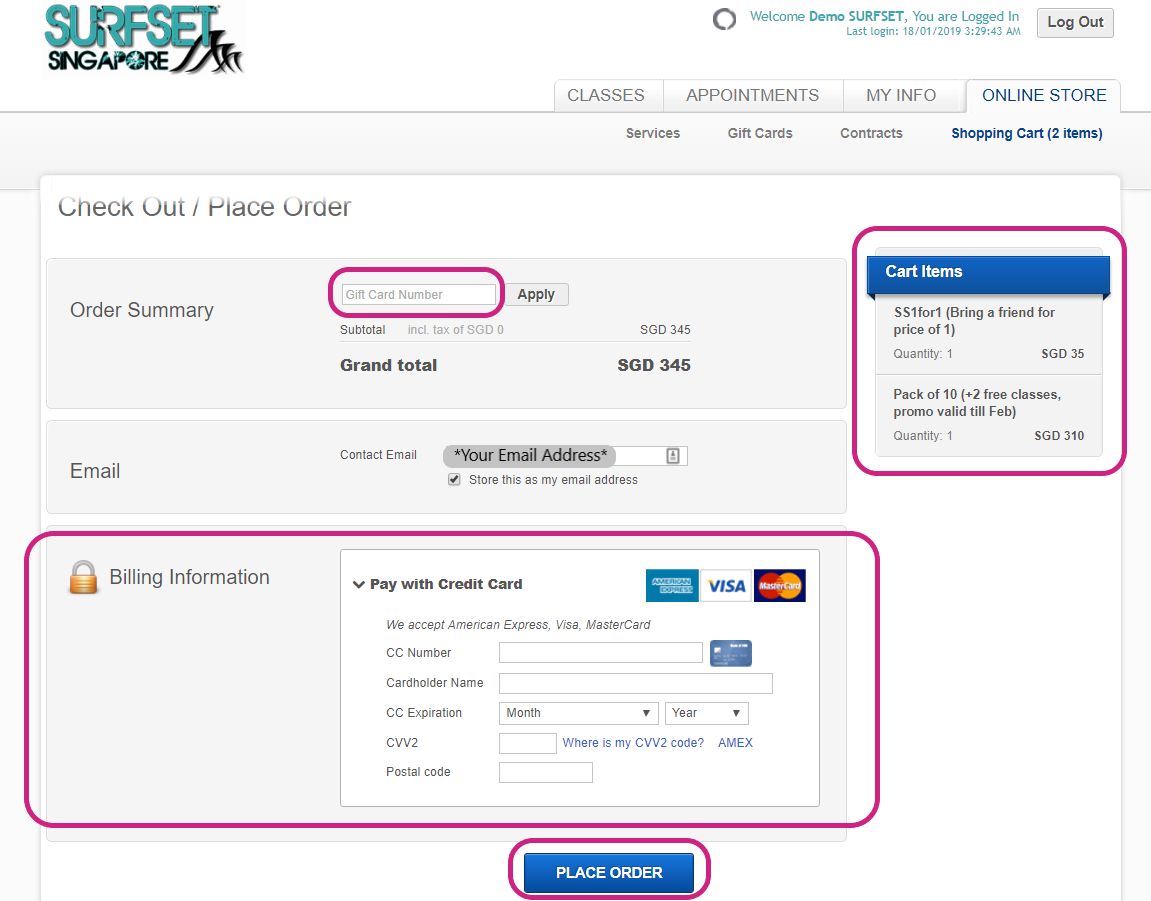 9. Useful tabs to book, check account related information and purchase are highlighted below. To cancel any reservations, please click <My Info>, click <My Schedule> and click <cancel>.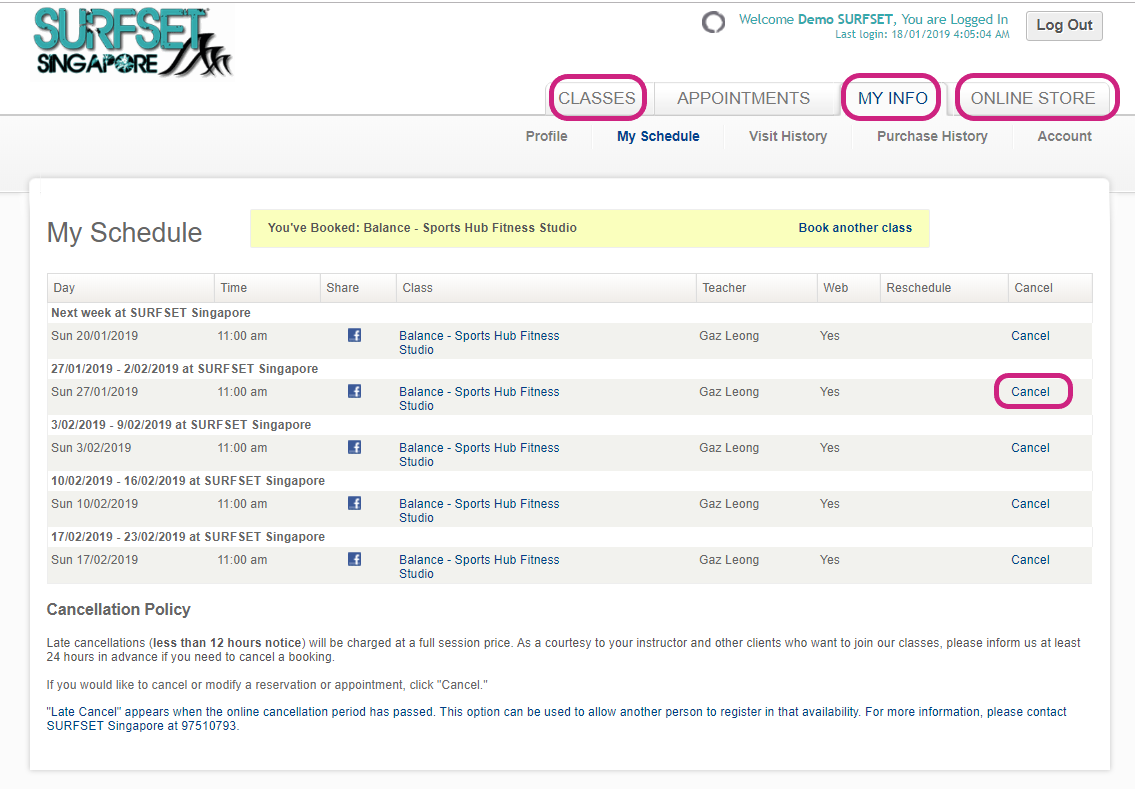 For returning members who wish to purchase a package without booking a session, please first login.
Click on <Online Store> and select the pricing option you wish to purchase. Expiry date of package purchased is reflected. Complete Step 6 and 7.