Club Med Tomamu: A Snowboarding Review
We went to check out Club Med Tomamu in March this year (2018), soon after they opened their doors. New rooms? All-inclusive holiday? Drinks and beers all through the day? All-day buffet with no extra cost? What's not to like?
Turns out, as is with most things, there's a lot more than meets the eye.
Note: this post is part of our snowboarding series. Planning a snowboarding holiday? Make sure to check our Guide to Snowboarding in Japan and Korea.
Club Med Tomamu
Club Med Tomamu is very new – it just opened in December 2017, and we there in March.
The information available online about the area is scarce, so we're here to prepare you. Everyone talks about Club Med Tomamu, but not so much about how the ski runs and lifts work, and their neighbour Hoshino Resorts. This is the lowdown:
Club Med Tomamu is situated about 5 minutes away from Hoshino Resorts by shuttle bus. The instructors say it's a ten minute walk between them, but we didn't really believe it and didn't try it. They share a mountain and ski slopes and it's possible to ski from one side to the other, but only if you're advanced enough.
While it would seem like Hoshino and Club Med are almost like one entity, they are not. They are under obviously different managements – one Japanese (Hoshino), and one French (and Chinese). The Club Med building, hotel, rooms, equipment, staff, instructors etc. are all verifiably Club Med. But Club Med pretty much ends at the door leading out of the building to the ski lift.
All the lifts and slopes are operated and managed by Hoshino resorts. Club Med Tomamu is absolutely at the mercy of Hoshino Resorts when it comes to lift operations. That means that if there's shortage of staff to clear up the slopes, it's likely they will always do the Hoshino side first.
Of course, on normal days without any bad weather, this shouldn't be a problem. All slopes should be operational and running from the start. Hoshino Resorts is a Japanese entity after all. But we had bad weather during our visit (like strong winds), and on many days, only lifts on the Hoshino side were working.
Getting There
Club Med Tomamu is around 2 hours by bus from New Chitose Airport. That's reasonable. However, you may want to check out the transfer schedules and plan your flight landing time, so you won't have to spend too much time hanging around the airport. In the bus schedule, they recommend you to purchase private transfer if you are scheduled to land after 5.45pm.
Take a look at the Transfer Schedule we got from them when we booked our package.
Slopes
Tomamu is not so much fun in terms of slopes, but should provide enough runs for a few days. They only have 1 gondola and 5 lifts, spread between two mountainsides. As far as Hokkaido ski resorts go, it's lacking.
What we found was that the slopes were quite inconsistent in terms of difficulty. The greens were easy, and the blues were a big jump in difficulty. Maybe it was the weather, but the blues were generally steep, quite ungroomed, and bumpy, and going down on a snowboard almost gets you hopping like a bunny. We also found some parts of the green slopes quite steep at certain points, and you could see a lot of beginners falling around the area. Blacks were very steep, challenging, and all ungroomed. There's quite a bit of opportunities for off-piste snowboarding too, with very thick, marvelous snow.
There is a potential problem for beginner snowboarders wanting to snowboard the entire mountain. You could ski between both mountains using the network of ski lifts and ski slopes, but you need to have some confidence. The Romance Chair from Club Med to the Hoshino side ends up with two blue trails. You can link up to the green (Sunshine), but you have to go through a stretch of blue (Gemini). It may not be a big problem since most beginner snowboarders can just scrape down facing forwards anyway, for this part. This is not clearly shown on the map.
If you're a beginner not wanting to explore the whole mountain, and happy to stay only on one side, you can take the gondola that starts from the Club Med side. At the top, there's a long green route that leads all the way back down to Club Med. It was gentle enough, but narrow at times. We hope you have better weather than us, though, as it's pretty high up and at the mercy of weather conditions. On our trip, the wind at the top of the mountain was blistering and painful, making our goggles fog up repeatedly. Also, the snow made visibility poor. Routes weren't clearly marked and there were some crossroads.
Speaking of the gondola, we went in the off-season in March, and there was still a 15 minute queue for the gondola, and it was a 12 minute ride up to the top (slow by most standards). If you're fast, you'll be back in 10 minutes. Beginners who can link their turns can expect to come down in 30 minutes. On the other hand, our favourite lift, the Tower Express on the Hoshino side, hardly had any queues, with wait times ranging from immediate to 3 minutes. This was on the same day.
Night Skiing
Note that day skiing ends at 3.30pm, which is painfully early. There's "night" skiing which ends at 6pm. In contrast, night skiing at Niseko goes all the way till 8.30 pm. Night skiing is ONLY at the Hoshino side, which means you must be prepared to cross mountains, or to take shuttle buses (which are unreliable; more on that later).
For those looking to snowboard past 3.30pm, please remember these pointers:
Before 3.30pm, you MUST take Romance chair to the Hoshino side. Remember what we said about Romance chair ending in two blue trails? You need to be able to go through at least a little bit of blue to get to the green.
Once you're in the Hoshino side past 3.30pm, you have to stay in the Hoshino side all the way, until you're ready to head back.
Whatever it is, you need to make sure to start making preparations to head back to the Club Med side before 6pm, since all lifts and slopes will be closed at 6pm. To get back, you need to take the Tomamu Express all the way to the top, and go by the GREEN route, Sunshine, making sure to take the turn that leads to Club Med. There are some signs, but they are easy to miss.
If you drop into the Blue slope instead, you'll miss it and will have to take a shuttle bus, and pray there is one. Or you could walk, and let us know how long it takes.
Shuttle Buses
There are shuttle buses between Club Med and Hoshino, but they were very inconsistent with no proper timetable during the time we were there. Not of Japanese standard at all. In fact, if you are in Hoshino Resort and ask about shuttle buses to Club Med, most of the staff seem like they have no knowledge of the existence of this bus.
During our trip, we waited for 40 minutes for the bus, which was supposed to arrive every 15 minutes, according to the staff. It never did turn up.
Ski-in-ski-out
Club Med Tomamu would be considered a ski-in-ski-out resort, with ski lifts near to the resort's ski locker exits. It's still some distance, though, between that exit to the nearest ski lift – around a 5 minute walk carrying all your gear.
But that's half the story. Our rooms were very far from the ski lockers – another 8 minute walk. Sure, this depends on which room you're assigned to. But the one place most people would congregate would be the Itara restaurant for lunch – it's around 6 minutes' walk from the restaurant to the ski lockers.
This means that you can schedule a down-time of around 22 minutes of walking back and forth for lunch, excluding actual eating time and time for gearing down / up. It adds up.
Compare this with Hoshino Resorts, which actually features a "Hotalu street" with a lot of small eateries, and which is a true blue ski-in-ski-out area. You could be done with lunch in the same amount of time you would spend merely walking if you went back to the Club Med Itara restaurant for lunch. The restaurants in Hotalu street are not part of your Club Med package.
Snow
As is the usual with most Hokkaido resorts, you should be able to get really good fluffy, powdery snow.
Equipment Rental
One of the good things about Club Med is the perception of it being an "all-included" holiday. Note: Equipment rental is NOT included. Snowboard + Boot rental is SGD 76.00 per day, which is on the high side.
Skiing and snowboarding lessons, on the other hand, are included. This is not a good thing.
Snowboarding lessons
If you go to another resort and pay an instructor $80 for a snowboarding lesson, you'll have expectations, right? And if the instructors are lousy and give bad lessons, you'll hold them accountable for that $80 you paid them, right?
Well, if your snowboarding lessons are part of your "all-inclusive" holiday, you can't demand $80 back from your instructor or the snow school.
Also, very importantly, remember this: when snowboarding lessons are included, EVERYONE goes for them.
We went to Club Med in a group and a few of us took lessons. One of our group members took the level 1 snowboarding class, called SB1, and was thrown in a group with 10 other people. The instructor brought them to the ski lifts, asked them to take the lifts up, and left them to fend for themselves once they were on the mountaintop. He demonstrated a couple of turns and linking turns, and that was that – the rest of the session was all the classmates individually trying to make it down the mountain without input from the instructor.
One member took Ski level 2 and was in a class with 14 people, which in our opinion is way too large to conduct anything meaningful.
According to Club Med, the maximum class size is 15 – once there are 16 people signed up, they'll split it into two groups of 8.
If you find these classes too big, you could pay for private classes. In that case you might as well pay for private classes at another resort anyway.
Higher level classes are less likely to be so crowded. Snowboard Level 2 (SB2) only had 3 people when we were there.
Remember – we were there on an off-peak timing in March.
Ultimately, we got the feeling that many of the instructors weren't very enthused about teaching, and were just doing enough to get by. We reckon it will be a much better choice to go to another resort and actually pay money for lessons.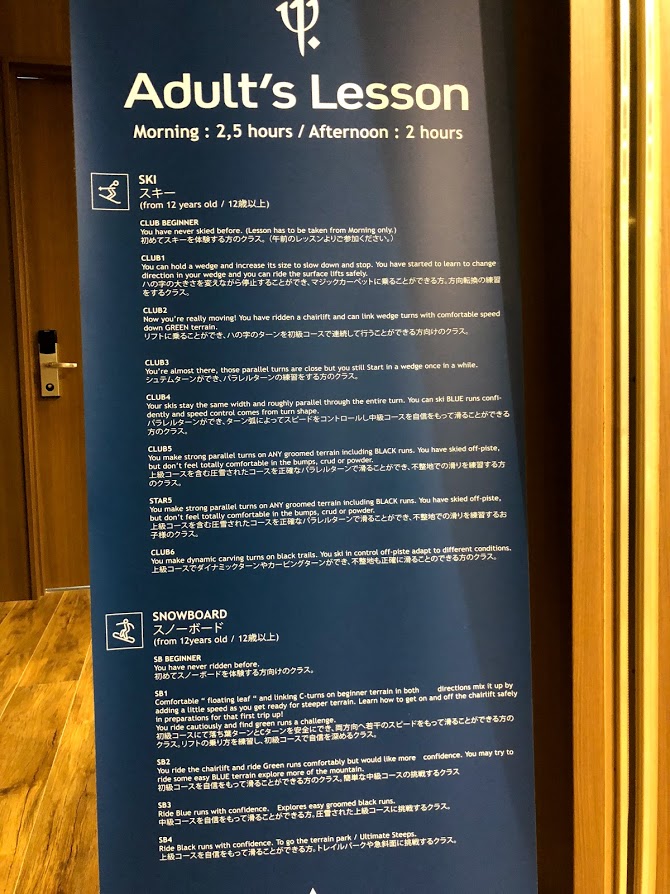 Kids' Classes & Activities
We think this is where Club Med really shines. They have great organization and activities for kids, all part of the inclusive holiday (except equipment). They divide the kids into Petit club (2-3 years, extra chargeable) and Mini club (4 – 10 years). Children can expect to spend the day skiing or snowboarding with competent instructors on the bunny slopes. After classes, they organize lots of other indoor activities and prepare performances to be held at the Unkai bar, which is standard Club Med. In the evening, the bar is full of screaming kids enjoying the silly antics and shows put up by the staff, and expending the last of their energy.
The Mini club schedule starts at 9am, includes bringing the kids for lunch, a quiet time, and finally releases the kids back to their parents at 5.30pm! Bliss for 8.5 hours!
The G.O.s (the term the instructors and staff call themselves) are great with kids, and you can see it in the way the children laugh and play.
Generally, the kids all seem to be having a real ball of a time, genuinely having fun. Expect the restaurants and bars to be filled with a lot of loud kids.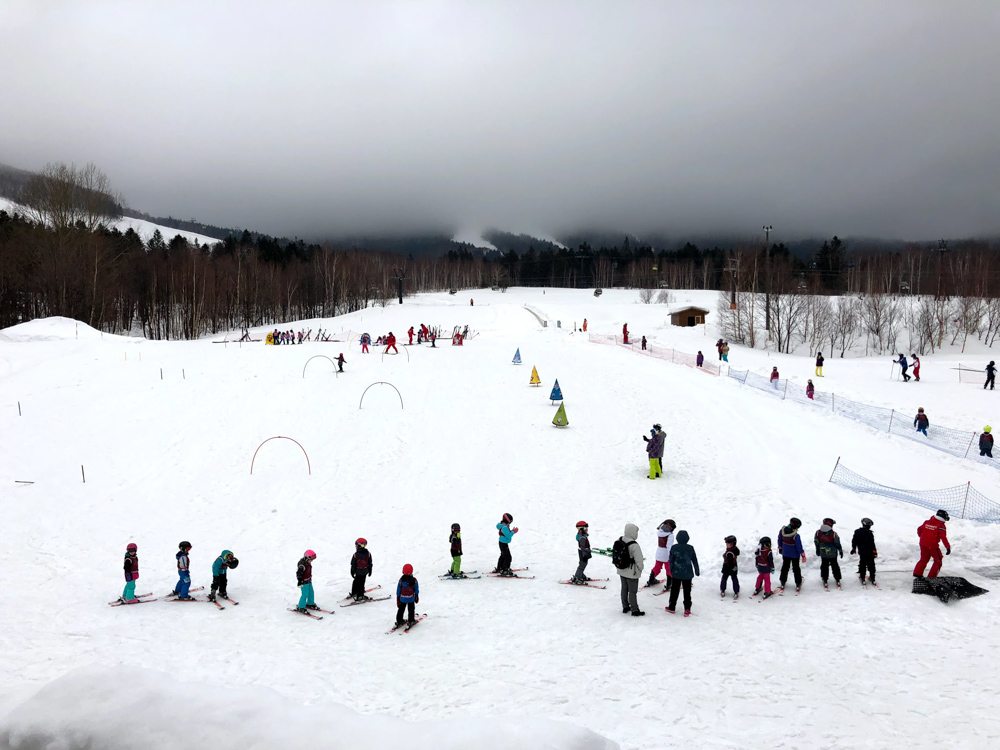 A Note To Adults
You may find screaming kids everywhere a bit of a nuisance – we understand. Unfortunately, we only can say this: expect them everywhere, even at 9pm at the Unkai bar. It was too much even for us, some of whom are parents.
If you need some respite, go take a look at their Nest bar. It's a really nice, cozy little place where kids aren't allowed. Just try not to drink anything. All drinks there are chargeable, even their normally-free Sapporo beers.
Beer
Drinks are part of the all-inclusive holiday, including alcoholic drinks. Beer may be an important part of certain people's holiday, so we thought we'd let them know: Club Med serves Sapporo beer all through the day at no extra cost. They have Sapporo Classic, and Sapporo Yebisu Black on draft. Bottled Corona is listed as a chargeable "premium beer" (??!???!?!).
Unfortunately, the servers are really bad at tapping beer. They tilt the glass excessively so that for the first three quarters of your glass, you will have no head. The last quarter will be only foam as they pour down a straightened glass. This gives an impression of a good frothy beer, but only in the first two minutes.
Food
The food was genuinely enjoyable. We are not fans of Japanese hotel buffets, mostly opting to seek out little restaurants in the surrounding towns. With Club Med though, you feel their efforts at keeping their food options fresh. They have new stuff on their buffet tables every day, and most of it was pretty good.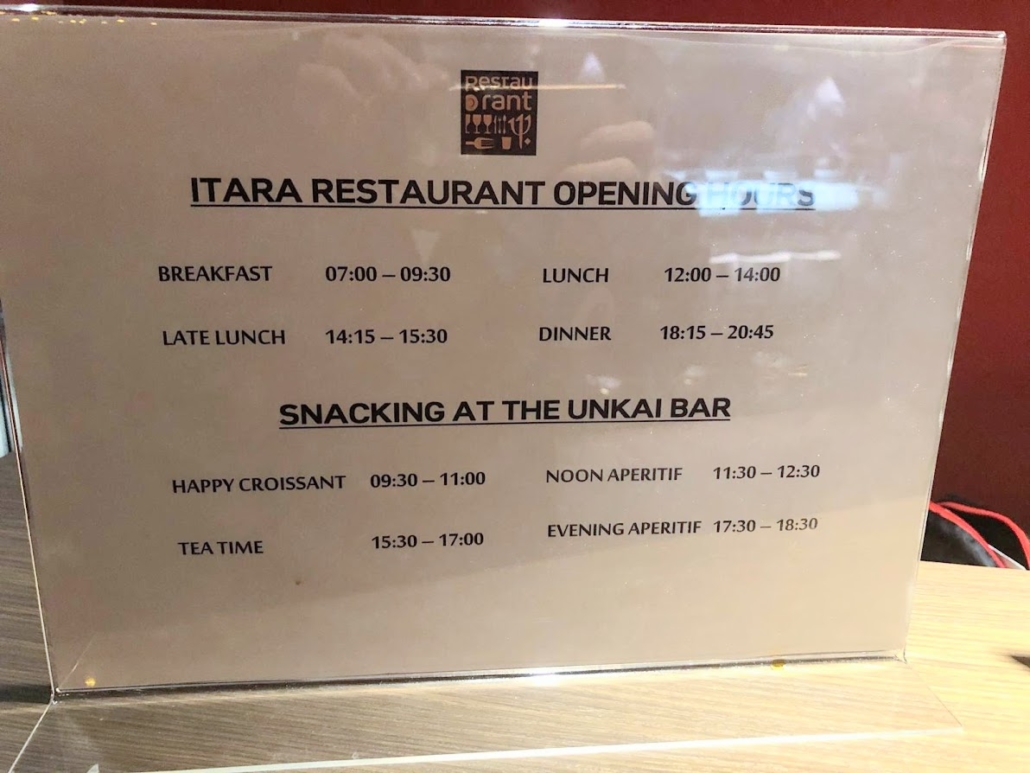 You also get vouchers for Haku, their yakiniku restaurant, which served good food but not so good service (their manager spent half his time speaking to a European family and we could not get his attention to order our dessert).
Rooms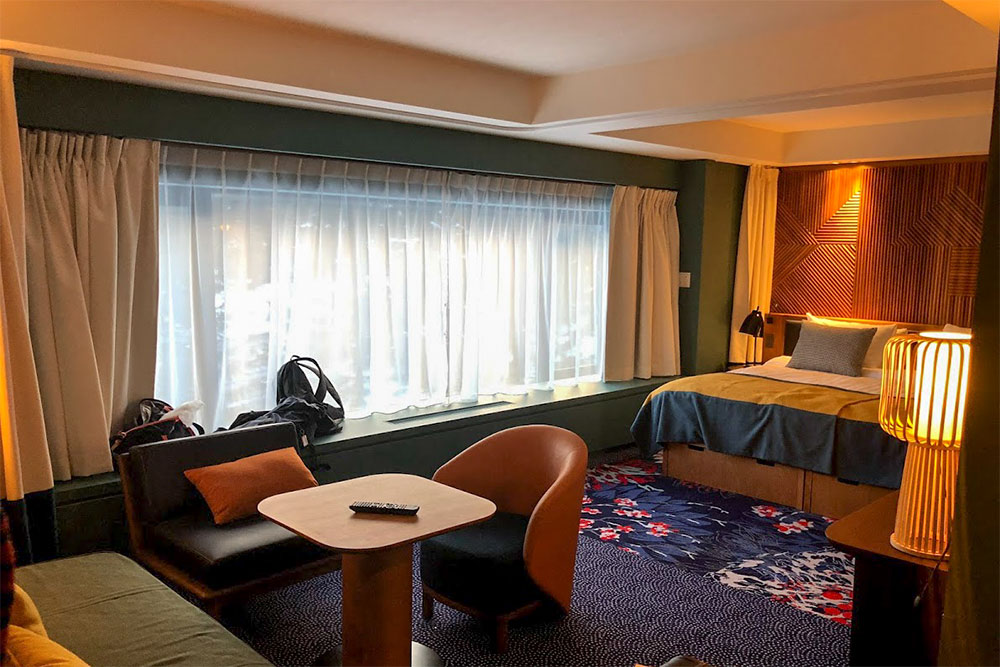 The rooms were genuinely new, and very comfortable. We had a Deluxe Quad room, which had a King-sized bed, a sofa that is big enough to sleep 1 person, and another attached room with twin beds. The other room had its own bathroom, so total of 2 bathrooms. Great for mornings.
The G.O. who brought us to our room did not know of the existence of the attached room. We asked him about the door, and he said it's probably the door for connecting two separate adjacent rooms. If you see a door like that, please try opening it. You may find this: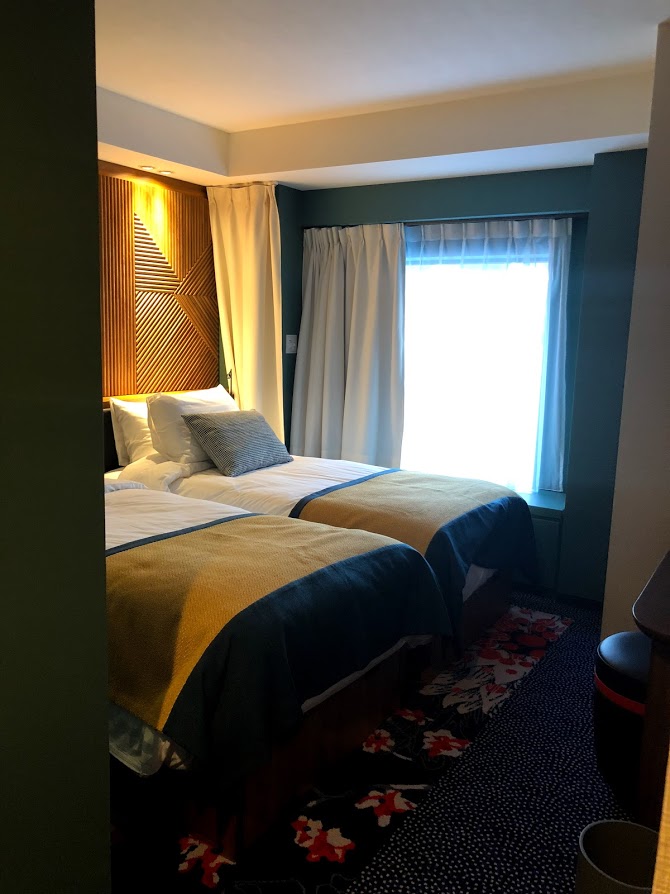 Other Activities
Being Club Med, there are plenty of other activities besides snowboarding and skiing. There's snow trekking, yoga, pilates, a small gym, impromptu ping-pong sessions, karaoke and game sessions at the bar (the karaoke was absolutely horrible), etc.
We weren't there for these activities, so we can't comment much, but if you're bringing someone who doesn't want to board or ski, they have plenty to do.
Club Med Tag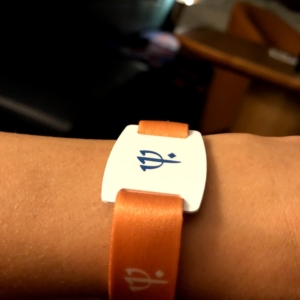 You'll be tagged when you get to Club Med. They'll put one of these things on your wrist, and it acts as your hotel room key, ski locker key, and generally anything else that requires verification that you're a paying member of Club Med. However, it does not work for ski lifts, as that is under Hoshino resorts.
It works wirelessly. Bring the tag up to the sensor on the door, and it unlocks.
You can't take it off, not even to shower, nor to sleep. It gets wet and damp.
You'll wear it for the entire duration of your stay. It was unpleasant.
Cost
Club Med was really expensive when we went there earlier this year (March 2018). We paid around SGD 600 per night, excluding air tickets, airport transfers, and equipment rental. It seems to be slightly cheaper now. A cursory check on the Club Med site showed a best price of around SGD 415 per night per person, for a couple sharing a room for 5 nights. This was for the dates of March 12 to 17, 2019, which is cheaper than December or January. Not inclusive of flights and airport transfers.
Sure, this $415 includes ski lessons, ski lift passes, beer, meals, rooms, breakfast, beer at breakfast, etc. But it excludes equipment rental (Snowboard rental is SGD 76 per day) and airport transfer (SGD 123).
Cost Comparison to Niseko
Here's a quick comparison with just one hotel at Niseko.
A check for Greenleaf Hotel Niseko for March 2019 shows SGD 450 / night for one room, 2 adults. That works out to 225 / adult per night.
You can add in:
Niseko all mountain lift pass: 7400 Yen / 92 SGD
Niseko group class snowboarding, full day: 7000 Yen / 87 SGD
Your total would be SGD 404 / day. If you pay more than $46 a day for eating and drinks (and you most likely would), it's actually cheaper at Club Med.
However, you cannot discount the fact that the Niseko mountain is absolutely superb for snowboarding, with hundreds of runs. There's simply no comparison.
Personally, we'd pick Greenleaf any day simply because of the mountain.
But there's a particular segment that should be particularly attracted to Club Med: Parents and families.
Cost for kids
Club Med is free for kids below 4 years of age! However, note that Petit Club for 2-3 years old, is chargeable at SGD 90 per day if you'd like to sign your kid up for that. Also, Club Med Tomamu doesn't offer any form of skiing lessons to children below 4 years.
Kids between 4 – 10 years old get a discount of up to 40% of the adult cost, according to the Club Med website. In our check, based on the same dates as above, you have to pay $217 for each kid per day. Mini club is included, but equipment is not ($61 / day).
We think these are attractive to parents, because Club Med is really, really good at keeping the little ones entertained and having fun, letting the parents go snowboard in peace. It's not just skiing lessons, too – the G.O.s take care of your kids in Mini club from 9am to 5.30pm! And that is usually worth the price of admission.
Cost in peak period
Our calculations above were made in August 2018 for a vacation during March 2019. If you're thinking of travelling in December, ready your purse.
Prices for December 7 – 12, 2018, are going at around $700 per adult per night.
So what's included in Club Med?
Air tickets and airport transfers are usually separately billed to you in the website search.
For everything else, these are included:
Hotel accommodation
Ski lessons
Mini club for kids (4-10 years) (Petit club is chargeable)
Club Med Passworld (some club for 11 – 17 year olds)
Ski lift passes, including night skiing (but don't lose the passes – they are issued by Hoshino Resorts and you will have to buy a new one if you lose it)
Most drinks, including alcoholic beverages, except those listed as premium.
Jameson whisky; we can't remember the other "free" options for whisky but they weren't that good
All your meals + food and snacks at the Itara restaurant and Unkai bar
Most of the other activities such as yoga and snow trekking
What's not included?
Equipment rental – jacket, pants, helmets, snowboards, boots, etc are all chargeable per item per day
Petit Club for kids (2-3 years)
More expensive activities (like snowmobiles)
Anything at the Nest bar
Dinners at the Haku yakiniku restaurant (we think you get some meals free there, please check with them)
Premium drinks at all the bars and restaurants
Premium food items, like the insanely priced JPY 8888 crab. There are no Alaskan / Hokkaido crabs on the buffet tables.
Anything at Hoshino Resorts (though they have quite nice eating places which we'd recommend you to try – also they are more ski-in-ski-out friendly with shorter walks between amenities and lifts)
What about Hoshino Resorts?
In our limited time in the area of Hoshino Resorts, we actually think it's a better choice for most people, especially those without children. We didn't check the pricing, but we're sure it's much cheaper. Basically, it has better ski-in-ski-out infrastructure, and all the reviews of the slopes apply equally here.
Conclusion
While it's easy to look at an "all-inclusive" holiday and think it's great that everything feels "free", you are most likely going to save money by going ala carte at another resort. For example, if you want to take a break from snowboarding on one day, you can choose not to buy the lift pass for that day in another resort. You can't do that in Club Med. It's already billed in.
If you'd like to bring your mother to Club Med to take care of your kids, she will also be paying full fare, which includes ski lift passes. In another resort, you'll save money by not buying her a lift pass.
And if you think having ski lessons billed into your total bill is a good idea, think again. You're most likely better off separately paying for classes – this way, there's a higher chance of getting more responsible instructors.
An important note is the slopes and lifts – Tomamu is very much lacking in this regard. The slopes are also of inconsistent difficulties.
The only time Club Med Tomamu would make sense is if you have children aged 4 to 10, all of whom are happy to go for the Mini club. They are probably going to be really happy, and you'll be able to snowboard from 9am to 5.30pm. Priceless.
Ultimately, we have to say this: if you don't have kids, look elsewhere, unless you can get a really good deal at Club Med. Most-times, it's not worth it.
Things we liked
Great hotel and nice, comfortable rooms
Lots of activities for children
Superb, fluffy snow
Buffet food was changed everyday
G.O.s are sociable and friendly
Things we didn't like
Long distances between rooms and restaurants and ski lockers and slopes
Shuttle bus unreliability (hopefully it was a teething problem)
Limited ski runs and ski lifts
Big crowds for snowboarding classes
Poor quality of snowboarding instruction
Too many screaming kids
Need more information on some other resorts? Want to know what to bring and expect for your ski holiday? Check out our guide on snowboarding in Japan and Korea – it has general information on snowboarding trips (catered to Singaporeans) and reviews of several resorts.
https://www.surfset.sg/wp-content/uploads/2018/08/Tomamu-Free-Way-1.jpg
567
1000
SURFSET Singapore
https://www.surfset.sg/wp-content/uploads/2016/08/SURFSET-Fitness-Singapore.png
SURFSET Singapore
2018-08-23 01:13:50
2018-09-01 14:50:56
Club Med Tomamu: A Snowboarding Review