SURFSET at Paddles on WaVe, PA Water-Venture East Coast Park
Yep, we're all sunburnt from being out in the sun the whole day. We had a great time with all of you guys out by the beach on Sunday! In fact, we had so much fun we had a video made to remember the day! See how much fun we all had, watching airplanes and getting fit.
Paddles on WaVe is an event organized by PA Water-Venture East Coast Park, who kindly invited us to set up a station among other lifestyle beach activities like ZORB ball, kayaking, and stand-up paddling. We made a home on a grassy patch by the beach, with an unobstructed view of the sea and the skies. There, with seven boards, we ran 30-minute sessions for event-goers, and held SURFSET challenges to give everyone a chance for glory and free classes.
The event started at 9 a.m. and two of our first participants were these cute kids, all ready for the sea and decked out in their ocean-wear. Shuyi had a lot of fun teaching them what it meant to be starfishes, how to fend off sharks (by kicking), and how jellyfish dance.
At 10 a.m., Mr. Lim Biow Chuan stopped by our station and gave our boards a try! Mr. Lim is the event's guest-of-honour, and the MP of Mountbatten.
We were pretty much in the centre of action – we could look out to the sea and see the stand-up paddlers paddling along on their bright boards. To the east, people were colliding into each other like big blobs in their ZORB balls, while to the southeast were yogis on their mats, practicing by the beach.
Being out in the open meant that we were really hot, too. It was a scorching hot day, but in a good way; perfect beach weather with the sun shining and the wind blowing. Just superb weather to be working out and having fun by the seaside, for sure.
That must have been a factor in the big turnout we had for the event. We actually brought out a fair number of boards – six for participants and one for the instructor, but all our sessions for the day were fully booked out by noon. I mean, look at this crowd at 11 a.m., when the event opened to the public: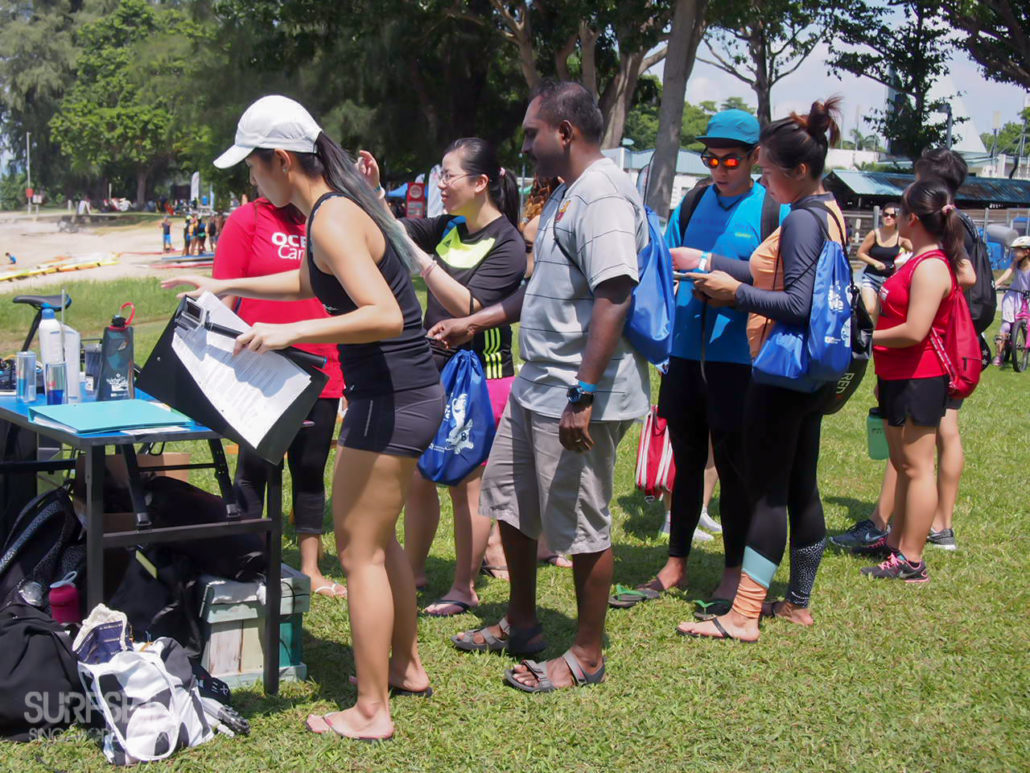 We ran short sessions for event-goers under the sun, and it was all nice and pleasant in the morning.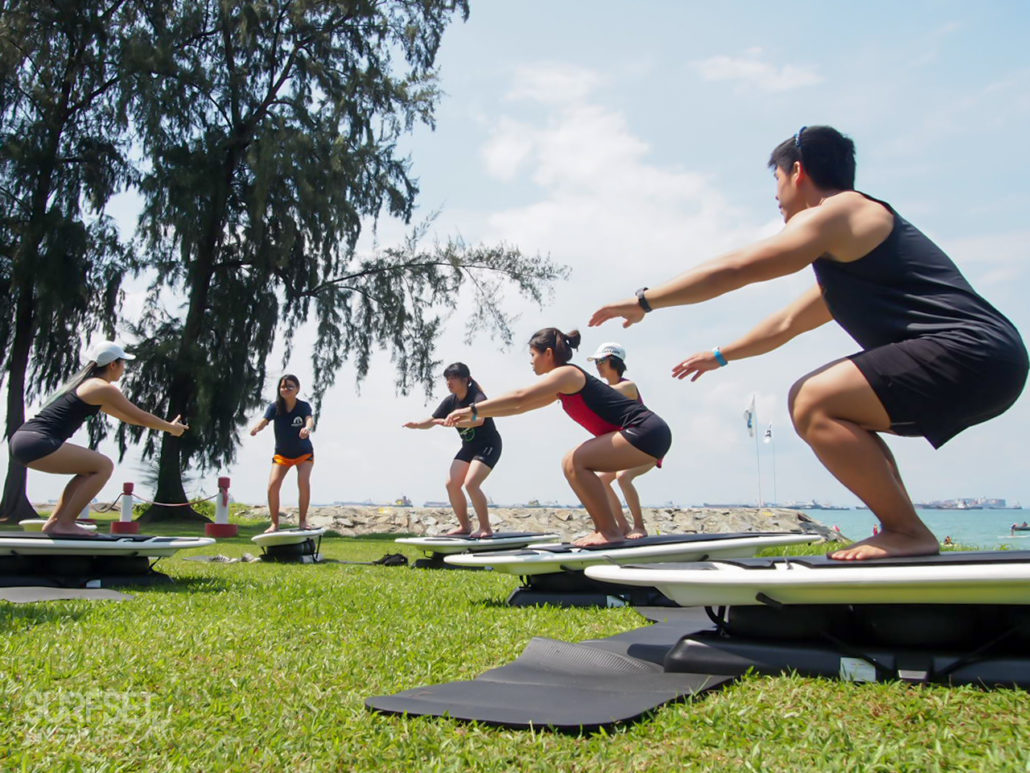 Then noon came, and it got a bit too hot by then. We had to seek out some shade under the trees and set up shop there.
The trees weren't enough to protect us from the sudden five-minute downpour in the afternoon, though. It was as if the skies looked at us and thought, hey, these guys look like they could do with a shower. While that was true, we weren't expecting it from the skies. It poured so heavily and so suddenly we didn't even have time to take any photos of the rain. We were completely soaked.
One of the PA Water-Venture crew helpfully quipped: "Well, it isn't really a beach carnival until you get wet, huh?"
We guess so. Thankfully, the rain lasted only all of five minutes, and we could resume!
In between sessions, we had some fun and games on our boards. We ran four challenges – Waverunners, Alternating pop-ups, Kayak paddles with paddles, and 7-up! Long story short – we had a whole bunch of people huffing and puffing for a chance at glory, plus plenty of wobbling, laughing, and sweat (don't worry – we cleaned up).
All in all, we had a great time with a really cool bunch of people, all of whom were super fun, active, and sporting! Just check out these girls and guys getting sweaty and basking in the moment.
We'll let the rest of the event be told through the photos we took in the gallery below. Meanwhile, all our boards are back in the studio, so see you back at Joo Chiat soon!
–
We compress most of the images on this site for faster page loading. If you're in any of the photos and would like it in high res, just get in touch with us.
SURFSET Singapore has participated in many events. To see more about upcoming and past events, take a look at our events page. If you'd like for us to join your event, you only have to ask!
Our usual classes are held at our studio in Joo Chiat. Learn more about our classes here, and if you'd like to join us for sessions at the studio, you can book a class here, or just give us a call at 9751 0793.
Event Gallery
https://www.surfset.sg/wp-content/uploads/2016/09/Paddles-on-WaVe-SURFSET.jpg
800
800
SURFSET Singapore
https://www.surfset.sg/wp-content/uploads/2016/08/SURFSET-Fitness-Singapore.png
SURFSET Singapore
2016-09-13 19:26:49
2018-08-07 13:47:11
SURFSET at Paddles on WaVe, PA Water-Venture East Coast Park