ACROVINYASA Acroyoga Workshop with Sara Wee and Rachel Ng
Our friends from The Yoga Mandala came by for our first ever Acroyoga ACROVINYASA Workshop! Leading the class was Sara Wee and Rachel Ng, who led us from solo vinyasas, to (erm) team-bonding activities, and finally with partner inversions and acroyoga. A happy group of 15 SURFSET regulars turned up to get stacked and get jacked.
Sara did promise that things may get chaotic during the session, and boy it did. Lots of triumphant high-fives, spotters rushing to catch a fall, nervous laughter, flat-out laughter, and the occasional scream. Needless to say, we all had great fun. Shuyi had the foresight to get her husband help film a short video for the enjoyment of everyone. Here it goes!
The class was divided into groups of three or four participants, rotating to be flyers, bases, and spotters. The instructors did a fantastic job conducting the class, with a comfortable, steady progression that allowed everyone to find trust and camaraderie in each other. As these things go, their demonstrations were almost breathtaking in how seamlessly and easily they moved into the different Acrovinyasa flows and poses. Of course, our SURFSET regulars were a little rough about the edges at first, but in time, everyone was able to fly, even if only for a little while. We are proud to report no injuries!
We'd preach more practice, and after all – this is only the tip of the iceberg. You can find more of that Acrovinyasa action at The Yoga Mandala [schedule], or our next workshop, hopefully soon…
A big thanks to the super professional instructors Sara and Rachel, who handled the class with such finesse, and big thanks too to the participants who gamely did their best. Here are some of our favourite photos of the day. More photos will be uploaded on our Facebook album, so like us on Facebook if you haven't! See you all back on the board soon!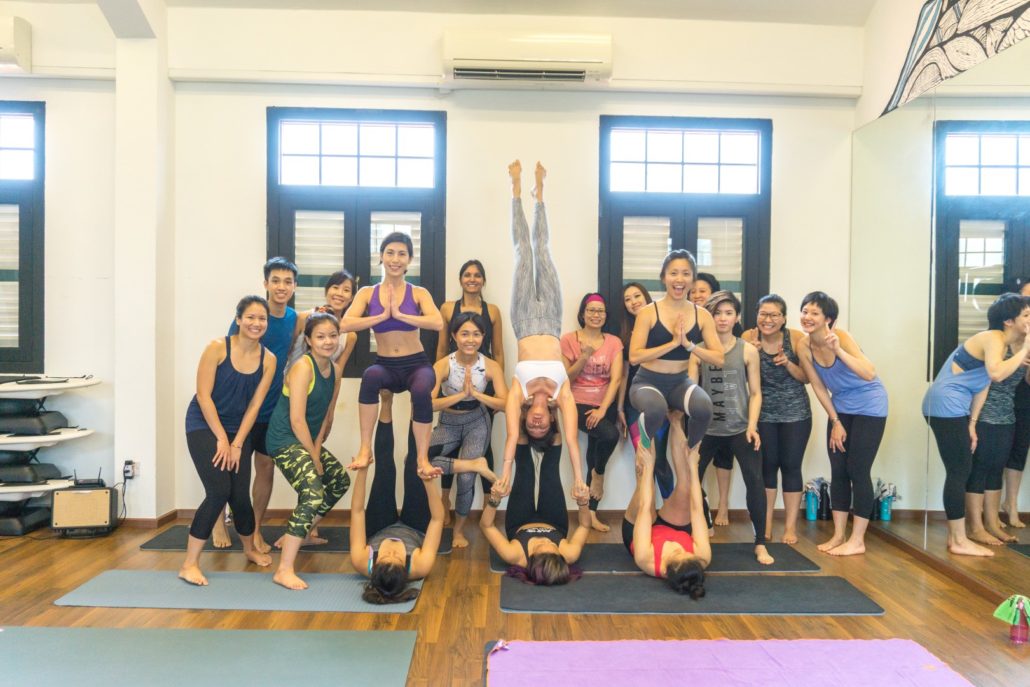 https://www.surfset.sg/wp-content/uploads/2017/05/Acrovinyasa-workshop-01-Group-photo.jpg
1080
1620
SURFSET Singapore
https://www.surfset.sg/wp-content/uploads/2016/08/SURFSET-Fitness-Singapore.png
SURFSET Singapore
2017-05-12 15:52:08
2018-08-07 13:47:10
ACROVINYASA Acroyoga Workshop with Sara Wee and Rachel Ng