SURFSET's first experience with Acroyoga
Acroyoga is a sort of yoga abomination – we say that because we're so used to having the peaceful, dependable earth beneath our bodies for regular yoga. Acroyoga? You throw that out the window, and opt to have a flimsy human below you instead. What? Why?
Wait – that's pretty much the whole concept of SURFSET, isn't it – except you switch out flimsy human to unstable surfboard? That probably explains it: firstly, it's a challenge. Also, there's the whole notion of trust with another person. Thirdly, there is an undeniable appeal to having some acro yoga shots in your Instagram. Just check these out –
While we're good looking people, we wouldn't call ourselves vain, so the appeal of acroyoga is really about the challenge. Our instructor Shuyi just went for her first Acroyoga class at The Yoga Mandala, and she said it really elevated her mind. In fact, she was so uplifted by the experience that she now has thoughts of inviting her friends from The Yoga Mandala to come by and say hi. Stay tuned.
Meanwhile, some photos of Shuyi flying high: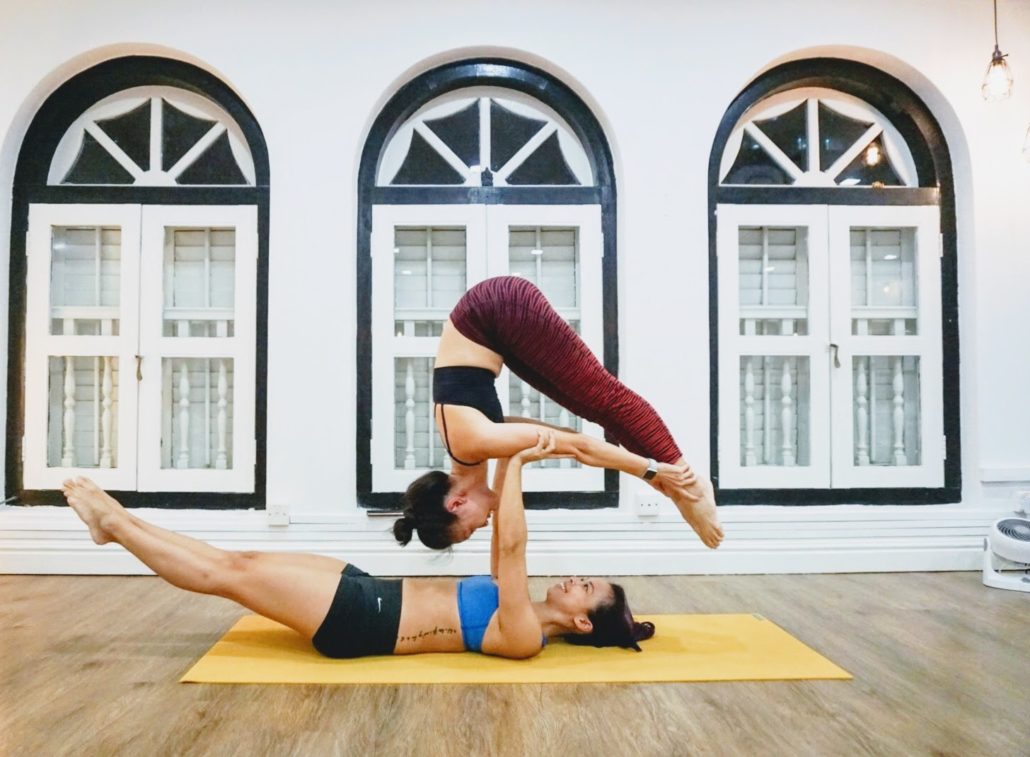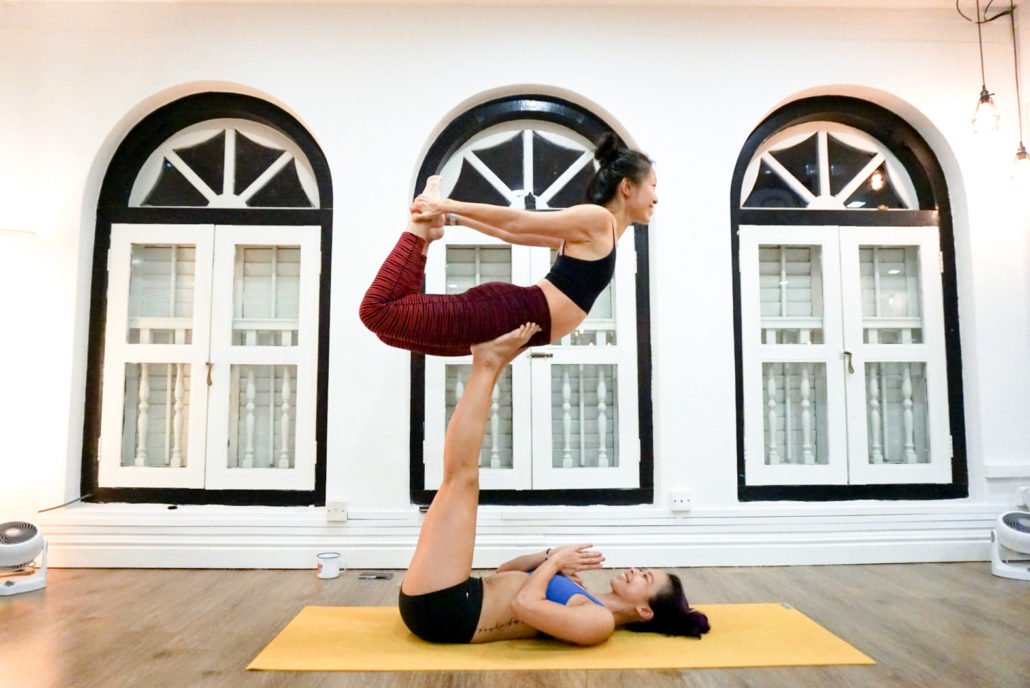 In case you wanted to know more, and you can't wait for the event, here are some myths and truths surrounding acroyoga.
I'm too tall, I cannot fly.
False! You were born to be nearer to sky. Physics may make it tricky, but it's definitely possible.
I'm big boned and big sized, I cannot fly.
False! An Airbus A380 is pretty big and heavy, and still it can fly. Of course, laws of physics apply, so for heavier flyers, we'd need stronger bases.
I will get hands and feet all over me.
Well, you are going to have hands and feet on you, but not all over you. Of course, if you're not comfortable with a little bit of physical contact, then this isn't for you.
I need to be a yogi before attempting acroyoga!
False! First-timers are welcome and are usually able to be a base, a flyer, and spotter all by their first class.
I'm a guy, I can only be a base.
False! Men can fly, and they do.
What should I wear?
Something comfortable, like normal yoga attire. You may tuck in loose tops when doing inversions. Ladies should tie up their hair in an extremely high or extremely low ponytail.
https://www.surfset.sg/wp-content/uploads/2017/05/Acroyoga-Sara-Shuyi.jpg
1053
1576
SURFSET Singapore
https://www.surfset.sg/wp-content/uploads/2016/08/SURFSET-Fitness-Singapore.png
SURFSET Singapore
2017-04-08 14:39:41
2018-08-07 13:47:10
SURFSET's first experience with Acroyoga