Back to Back Burns – Upcoming event: 26th Dec 2015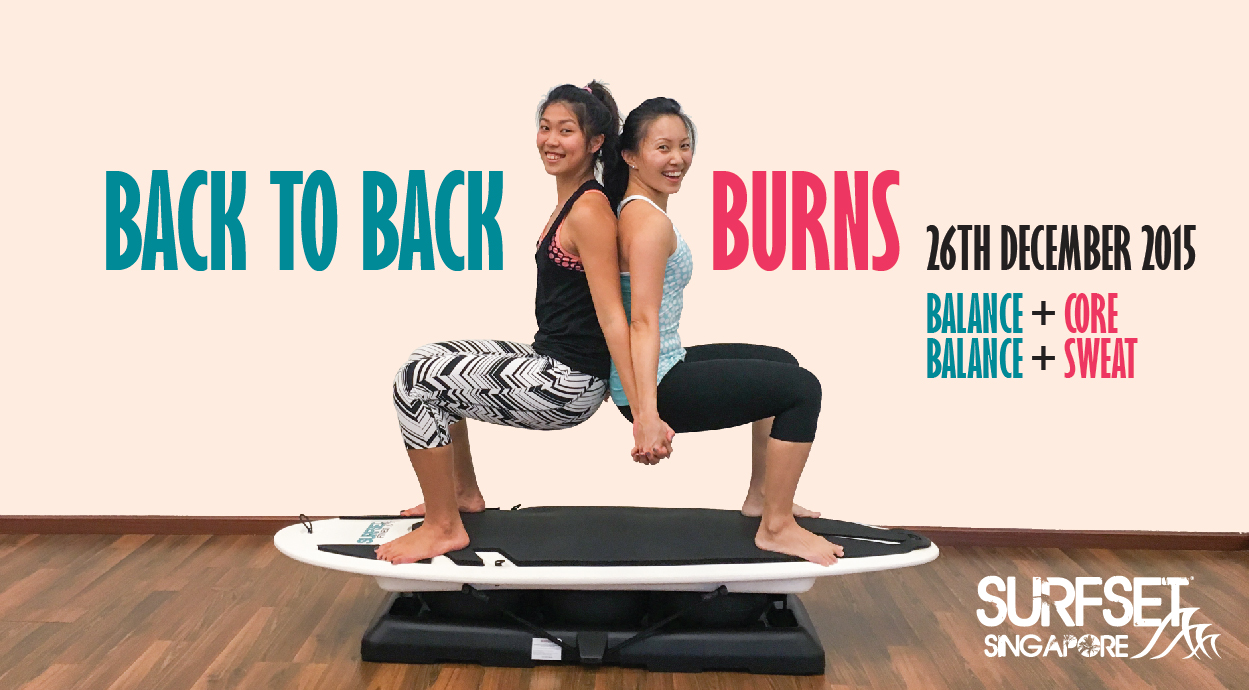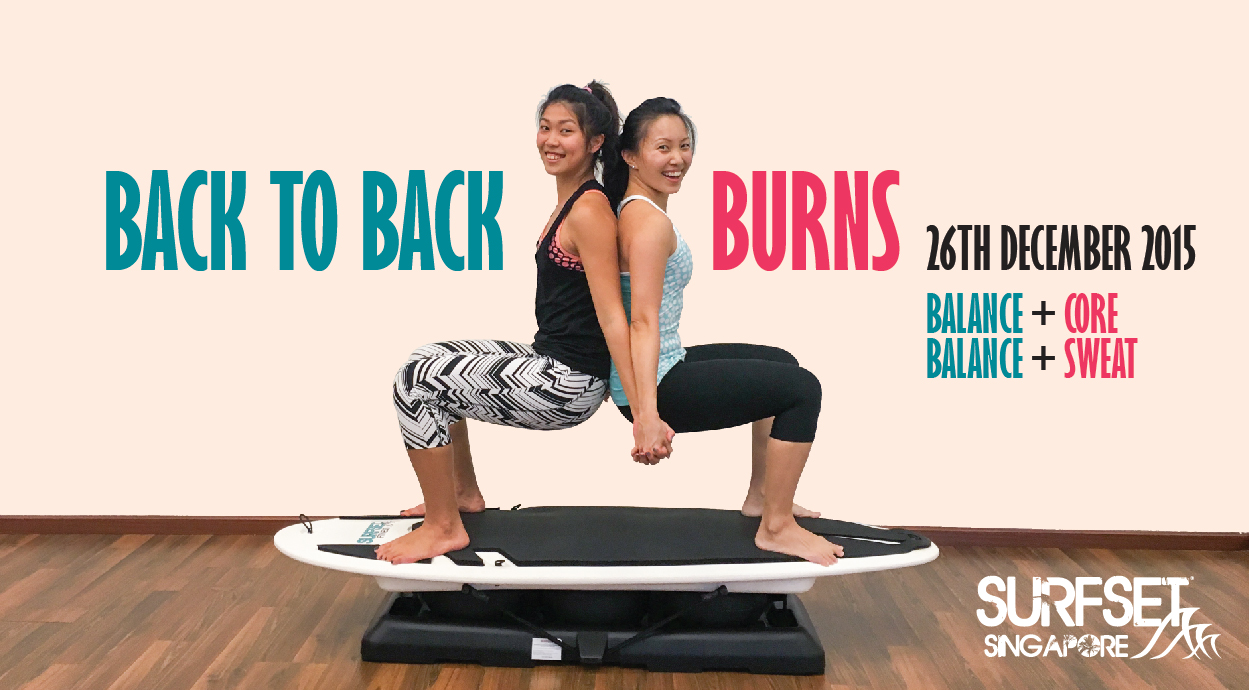 For fitness and nutrition, we always preach the keyword – moderation. However, some days it's good to turn things up a notch and bring things into the extreme.
That's exactly what we're going for on the 26th of December, 2015 – BACK TO BACK BURNS! It's a promotional day where we will run two full-session classes back to back, starting with Balance for 45 minutes, and continuing with Core or Sweat for another 45 minutes! Here's the deal: this will only count as a single session in your package.
It'll be the day after Christmas, so it's going to be perfect for burning off all that Christmas eating and drinking revelry. A superb way to get yourself into shape for making New Year's resolutions, if you ask us.
As this will be an intensive session with high demands for strength, endurance, and very importantly balance on our SURFSET boards, this session will not be open to first-timers. We will also be using this opportunity to thank our regulars for their support, so the promotion will only be open to customers with an existing package with us at the point in time. You may also purchase a package prior to the sessions.
BACK TO BACK BURN SCHEDULE
26th December 2015, Saturday
10 am to 12 nn – SURFSET Balance, then SURFSET Core
2 pm to 4 pm – SURFSET Balance, then SURFSET Sweat
How to book
Book a slot soon, as we have limited boards and spaces are already being taken! Bookings can be made for our Back to Back Session as you would a normal class, either with Mindbody or just dropping us a message. Remember to let us know which session you prefer – the 10 am slot with Core or the 2 pm slot with Sweat.
Normal classes
The 9am Saturday SURFSET Sweat class will run as per normal.
The rest of the classes running that day will be:
10 am – Balance
11 am – Core
2 pm – Balance
3 pm – Sweat
These classes will still be running as per normal and open to any participants who wish to join without utilizing the Back to Back Burns promotion.
Terms and Conditions
Back to Back Burn sessions are only open to clients who have attended at least one SURFSET Balance session
Back to Back Burn promotion only open to clients who have a valid package with at least one session balance at the point of the session
All types of packages (pack of 5, pack of 10, Bootcamp, Buddy Pack) are eligible
Each Back to Back Burn session consisting of one Balance session and one Core or Sweat session will only count as one session from your package balance
Bookings are essential
SURFSET Fitness will only run the class with 5 confirmed bookings for each session. In the event of cancellation, notice will be made to all participants 12 hours before class time.
All other usual terms and conditions apply:
All packages are non-transferable and non-refundable, unless otherwise stated.
Late cancellations with less than 12 hours notice will be charged as a session taken.
No-shows will be charged as a session taken.
Sessions must be used within the validity period stated. Sessions past the validity period can be renewed with the purchase of a new package.
All sessions must be paid in advance.
All packages must be activated within 3 months from the date of purchase unless otherwise stated.
FAQ
I'm travelling on that date but I'd love to do this! Will you do this again?
If we get good response, we'd definitely do this again! We're always planning new ways to get fit and have fun!
An hour and a half of SURFSET sounds intense. Will I be able to make it?
We won't lie – it really is going to be intense. As fitness professionals, we do everything in our effort to ensure the safety of our classes, so we will ensure adequate rests and water breaks in between. However, it's still up to the participants to take care of themselves – if you feel faint, giddy, or generally don't feel too good, always stop and let the instructor know.
This will be my first Core or Sweat class. Can I join this class?
Yes you can, but we would advise you to take extra care and listen to your body. If you find the class too difficult, stop and let the instructor know.
That photo of Shuyi and Nat looks great. Can I take a photo like that too?
We're always happy to let participants pose on the boards for photos after class. However, what Shuyi and Natalie are doing is far from easy, even though they look unruffled. It was fun seeing them struggle to get into position. We'd like to see you try too.
Why did you implement such an intensive workout right after Christmas? I will barely have digested my turkey!
It was on purpose.
https://www.surfset.sg/wp-content/uploads/2015/12/back-to-back-burns-featured-01.jpg
833
1249
SURFSET Singapore
https://www.surfset.sg/wp-content/uploads/2016/08/SURFSET-Fitness-Singapore.png
SURFSET Singapore
2015-12-10 19:16:30
2023-06-09 23:36:13
Back to Back Burns – Upcoming event: 26th Dec 2015