Core Connections Postnatal Workshop – Upcoming event 30 Jan 2016
Happy new year! Here's our first blog post of the year, introducing our first event of the year. Calling all pre and postnatal mommies out there – we're holding a workshop called Core Connections!
Core Connections, The Essential Postnatal Healing Workshop
Core Connections is a workshop for pre and postnatal moms looking to enhance and improve their lifestyles through exercise and diet. It'll be held at our SURFSET Studio on the 30th of January, 2016, and will feature three speakers, Kareen Lai, Benson Poh, and Emilie Tan.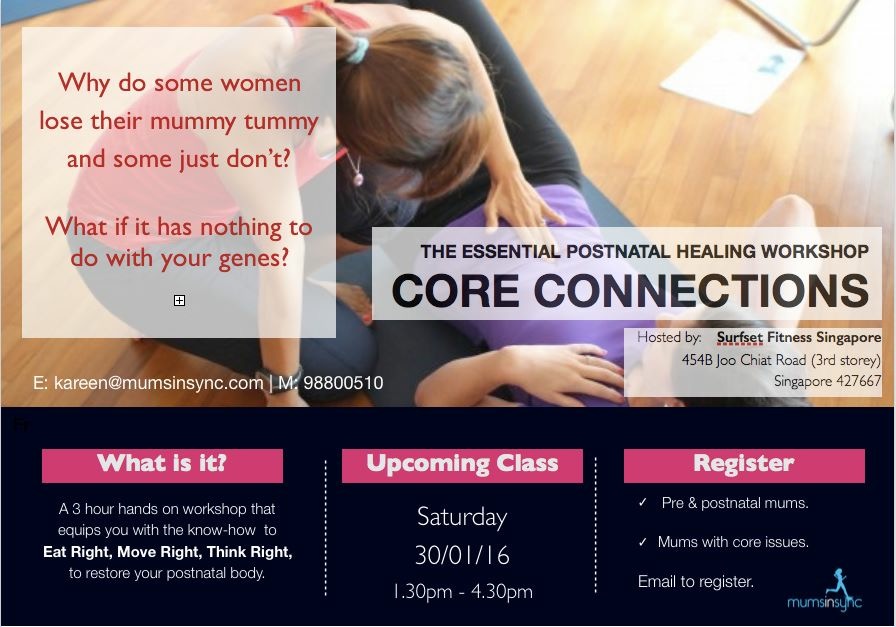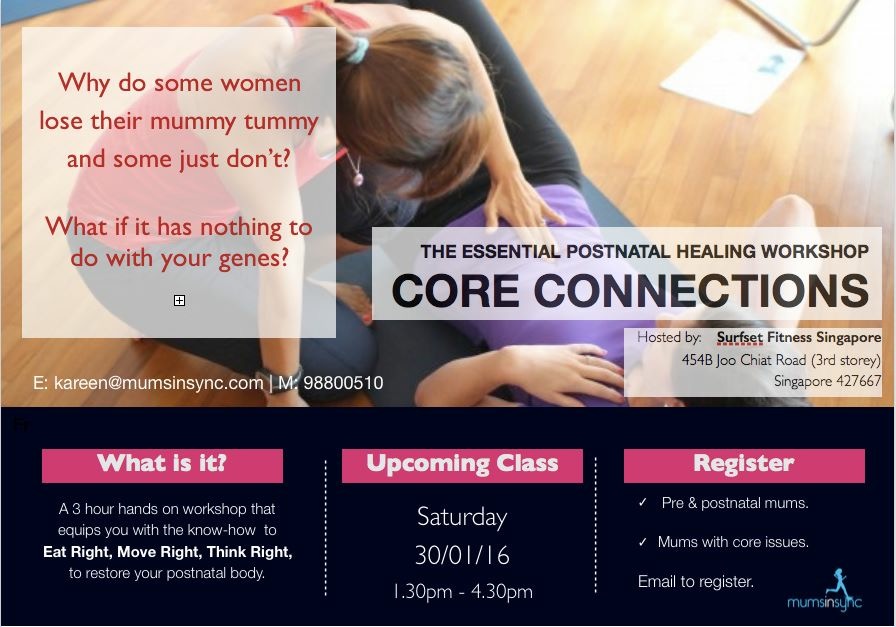 Date: 30th January 2016
Time: 1.30 pm to 4.30 pm (3 hours)
Location: SURFSET Fitness studio at 454B Joo Chiat Road, 3rd floor.
Program: Understand what happens to your body during and after pregnancy, design a safe workout for yourself, and learn how to make guilt-free snacks!
Price: $87
How to book: http://goo.gl/forms/MNYQBpxpHM
This event will be open to the public, so even those who haven't been to SURFSET are welcome to join!
Speakers
The three speakers running this workshop have enough qualifications combined to fill a billboard. They are all well-known and respected in their fields of expertise, so you can look forward to a tremendously useful session packed with lots of information and anecdotes derived from years of experience.
Kareen Lai
Kareen Lai is the founder of Mums In Sync, running fitness and nutrition programmes to equip mommies with knowledge to get into tiptop shape, and also the organizer of this event. Kareen developed the Core Connection Principles to help postnatal mothers heal adequately after delivery, dealing with common postpartum problems such as Diastasis Recti Abdominis (DRA), incontinence, prolapse, and pelvic girdle pain (PGP).
Kareen's also great with the healthy recipes. We tried her super simple Stuffed Portobello Mushrooms recipe, and it was delicious – really perfect for busy mothers who need a quick go-to recipe.
Benson Soh
Benson Poh is a Stroops Master Trainer with years of experience as a personal trainer. He will be speaking about fitness and going through how to do home exercises which strengthens the core, controls weight, and improves mobility.
Emilie Tan
Emilie is a certified raw foods chef, and she will be sharing tips on how to eat right to avoid piling on weight while still maintaining breast milk production. We're most excited about sampling the plant-based food and SNACKS that will be available.
SURFSET Fitness in this event
We're hosting this event because we believe in leading a sustainable active healthy postpartum lifestyle. Being advocates of fitness and hot bodies, we're huge proponents of incorporating an exercise regime into your life, combined with sensible and healthy eating. We have also met a fair share of active mummies looking to get fitter and better, and we have always had so much respect for them.
With that said, we're not directly involved in the event, so there will not be any SURFSET Fitness sessions, and our boards will be kept aside for the duration of the event.
However, our instructor Shuyi is a super-mummy and she's also a Mums In Sync Fit Mummy ambassador!  Here she is, looking great in a Mums In Sync photoshoot: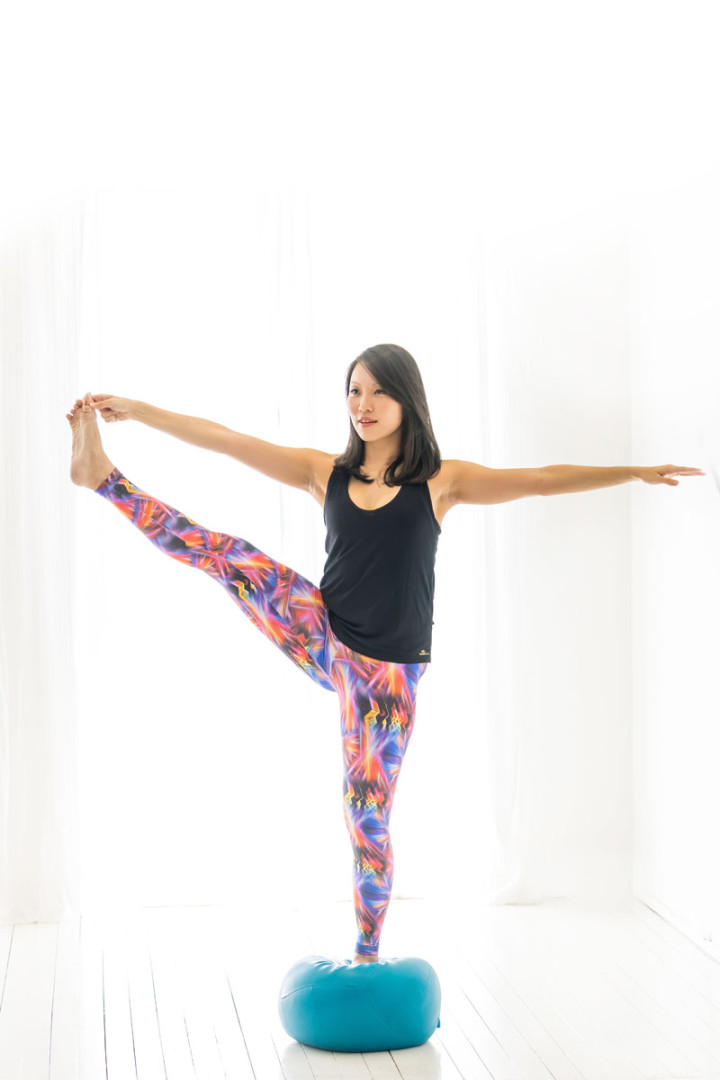 We look forward to seeing you this Saturday, so do join us, Kareen, Benson, and Emilie in our mission to shape up the nation, one mummy at a time!
https://www.surfset.sg/wp-content/uploads/2016/01/IMG_1345.jpg
627
896
SURFSET Singapore
https://www.surfset.sg/wp-content/uploads/2016/08/SURFSET-Fitness-Singapore.png
SURFSET Singapore
2016-01-25 23:03:26
2018-08-07 13:47:12
Core Connections Postnatal Workshop – Upcoming event 30 Jan 2016