SURFSET at Featherlight, Mandarin Gallery
SURFSET Fitness got out and about again! This time, it's not the laid-back beach vibes with bikinis; instead, we got busy at Orchard road!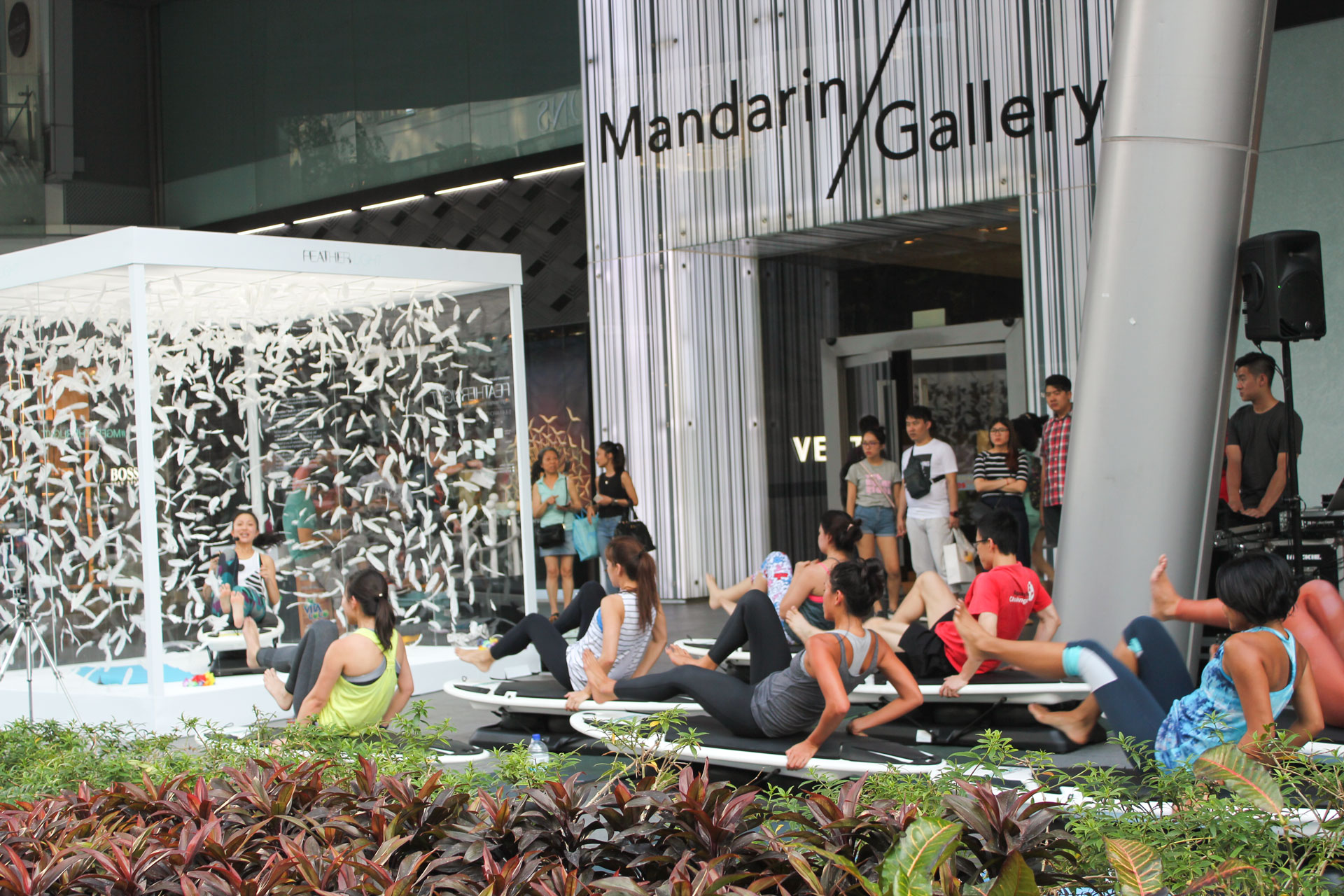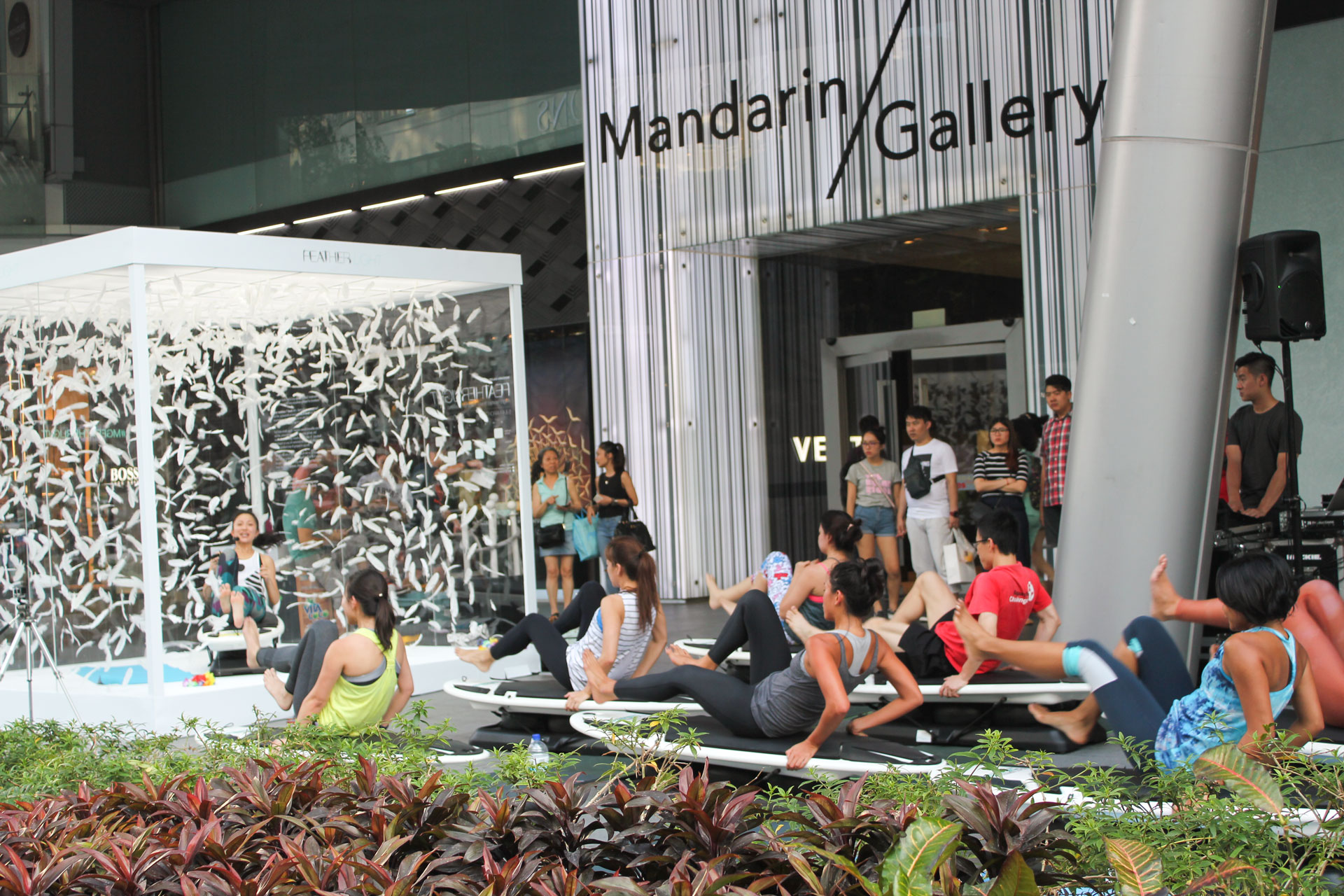 Featherlight Event
As part of their regular editions of The Gallery Experience, Mandarin Gallery hosted a fitness event called Featherlight, which is a weekend of fitness sessions with a musical theme. See our previous post for more information on the event and what it's about.
They call it a light-hearted fitness marathon weekend. A marathon, indeed, but only if you had signed up for every single session. We had SURFSET taking the head- and tail-ends of the days, with morning sessions at 10.00 am and evening sessions at 5.30 pm. In between, WeBarre got the funk up with 80's Barre, and Liv Lo did it again and drove us crazy with pop yoga. Awesome.
SURFSET Fitness at Mandarin Gallery
For this event, we brought out our arsenal of boards, mats, instructors, and cameras. Some of our less-inspired regulars cheered, "Woohoo, no class at the studio!", but we frowned at them for not making the trip down to work out in front of a thousand people watching.
Seriously, it looked like this: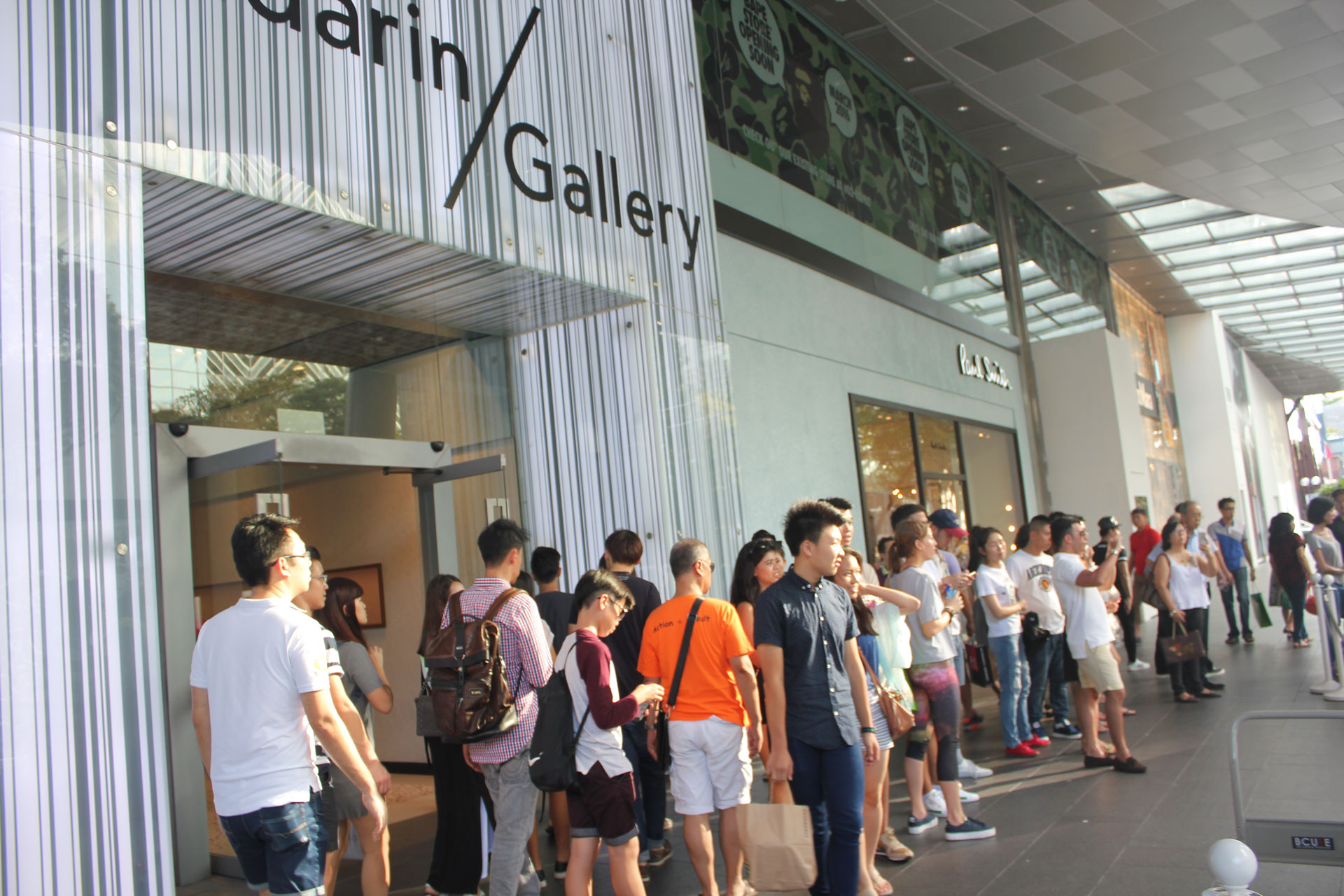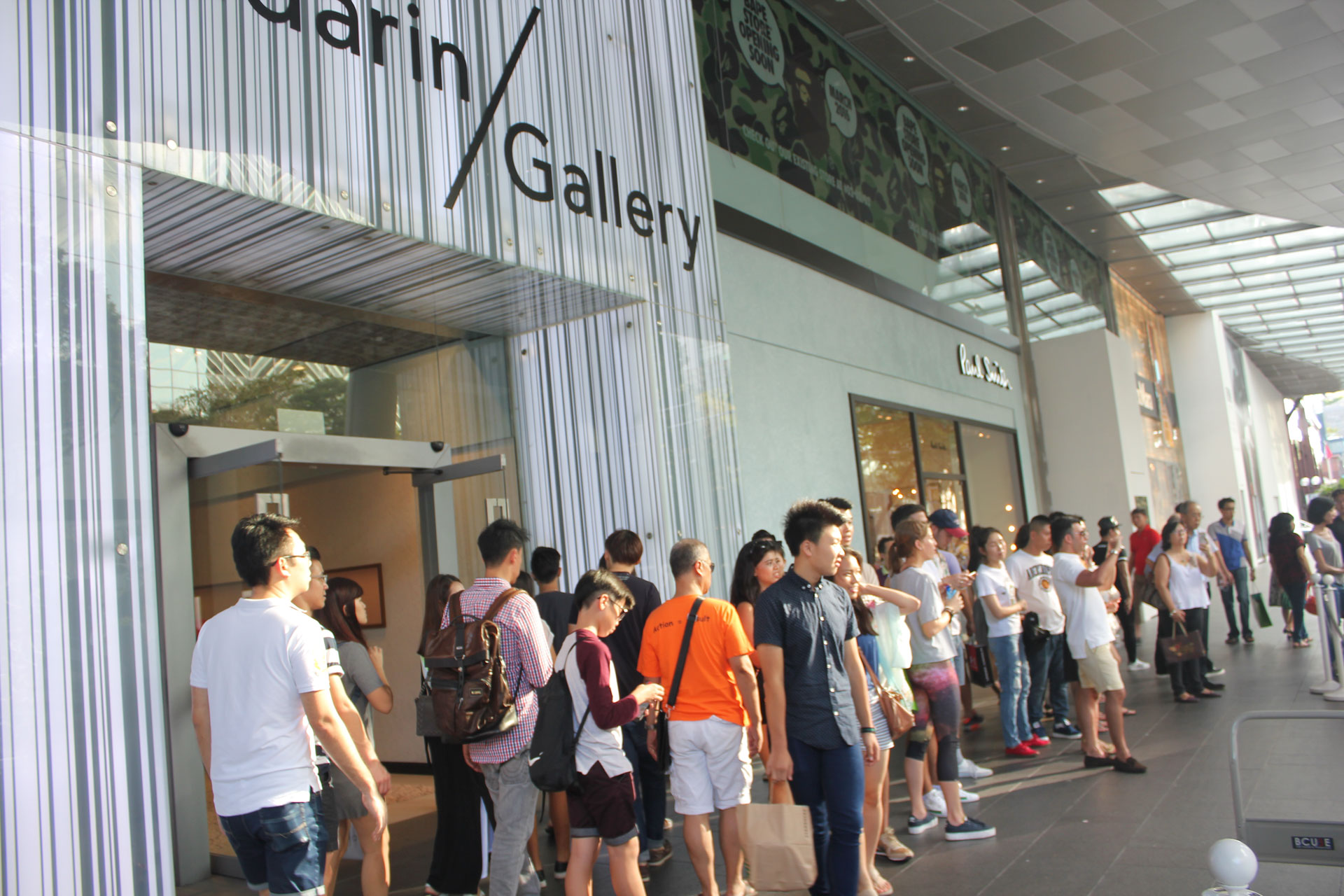 And that's just one side. The other side looked like this: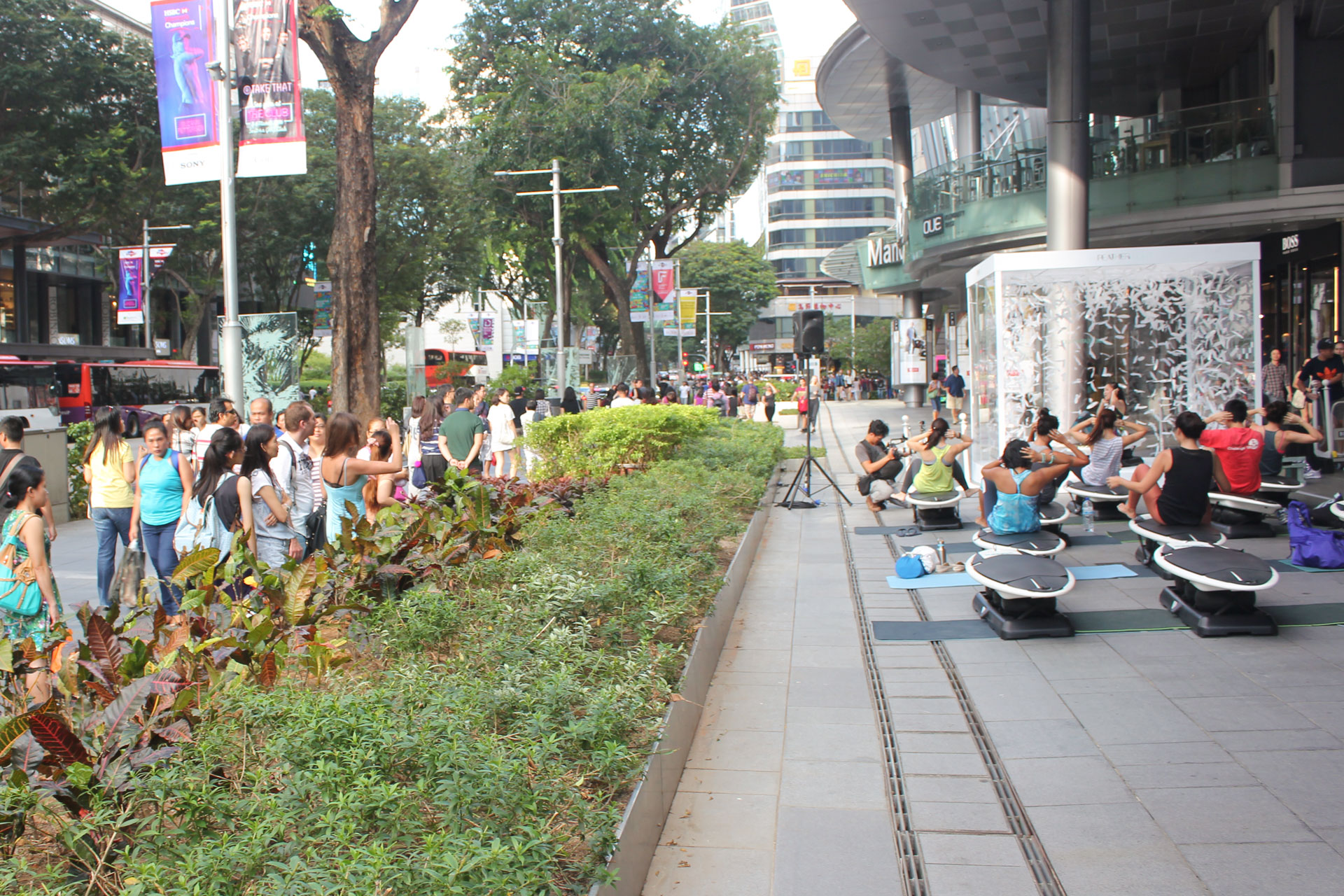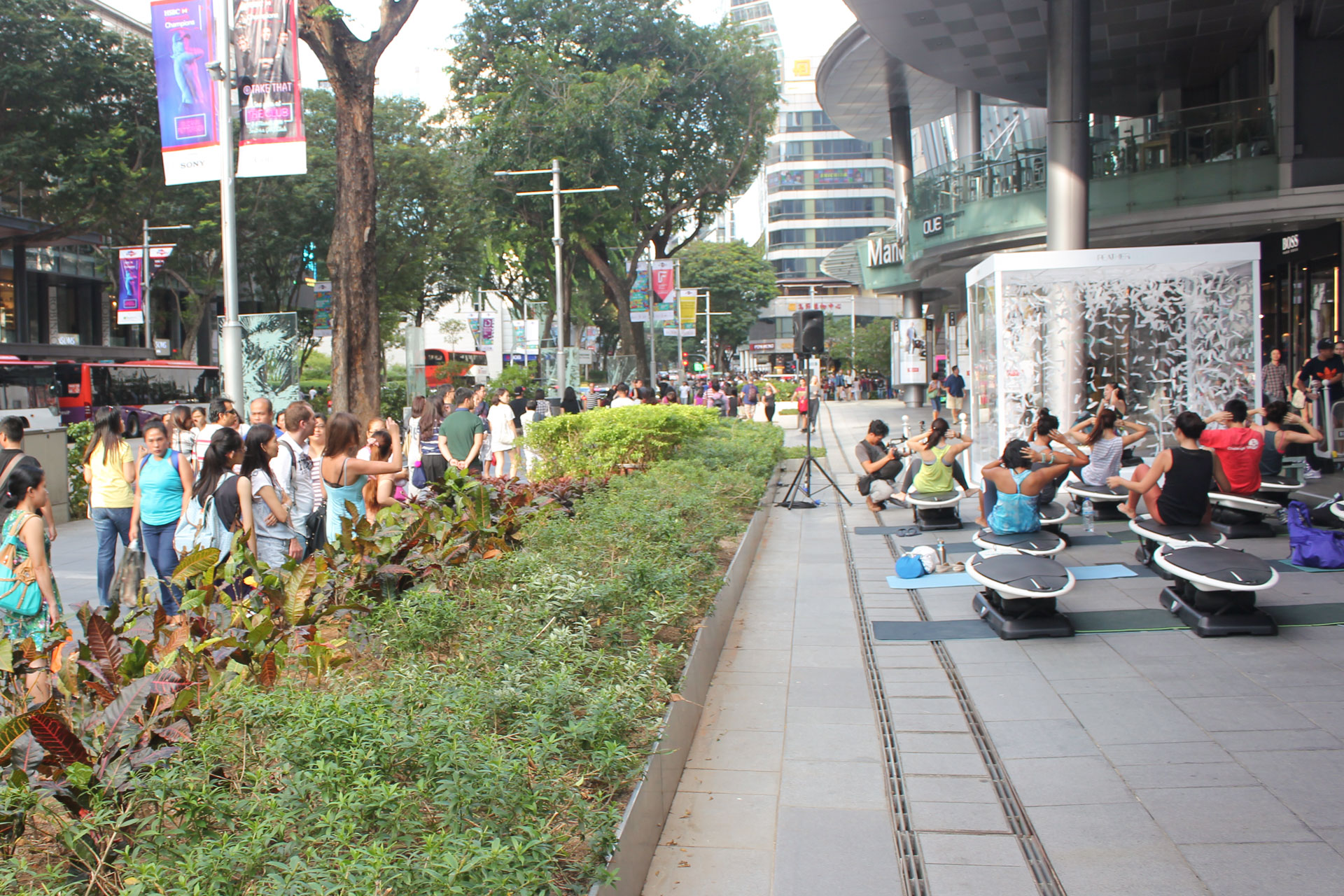 The event organizers constructed a neat little box, and following the namesake of the event, filled it full of floating feathers. It was pretty, and we couldn't resist taking some arty-farty photos.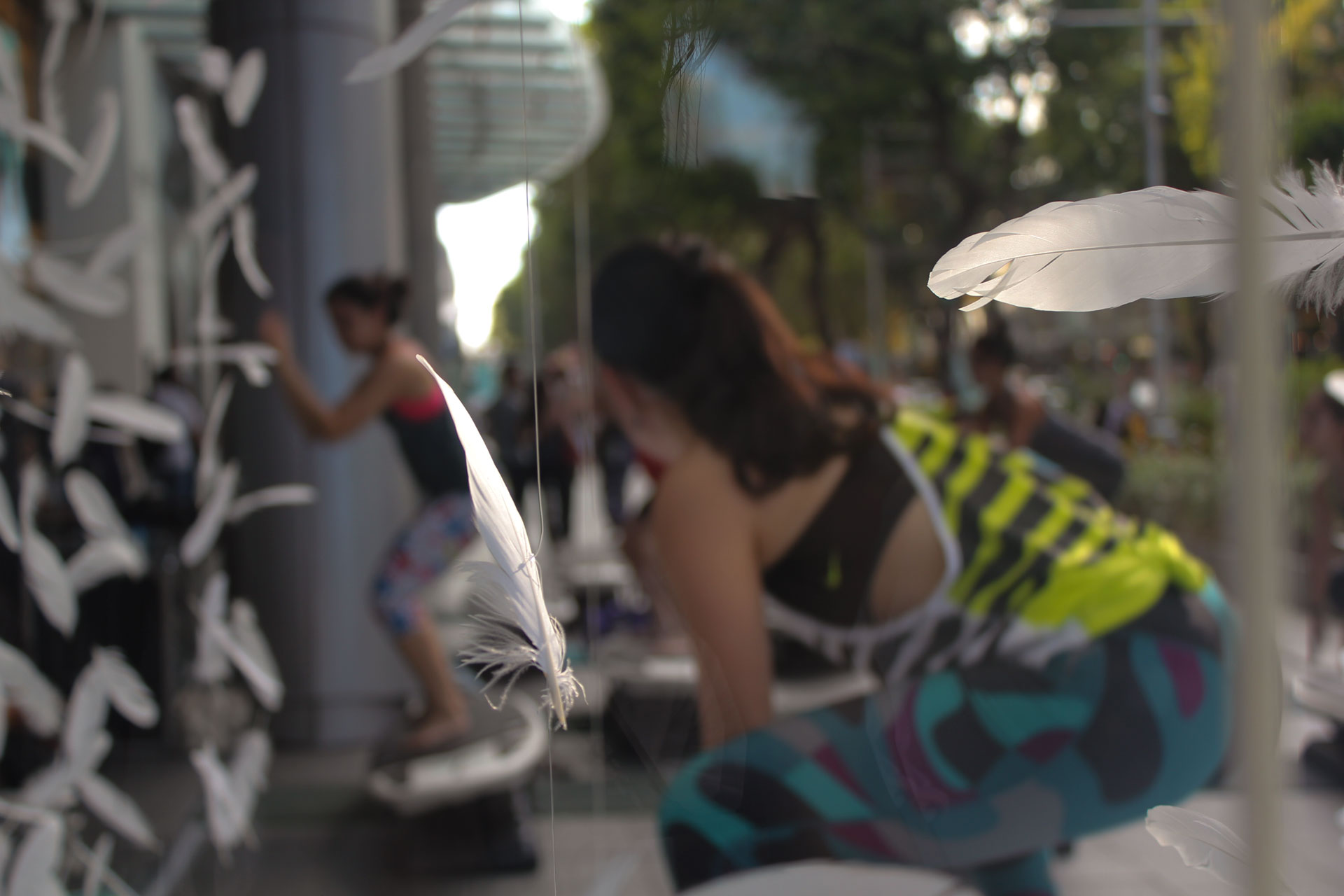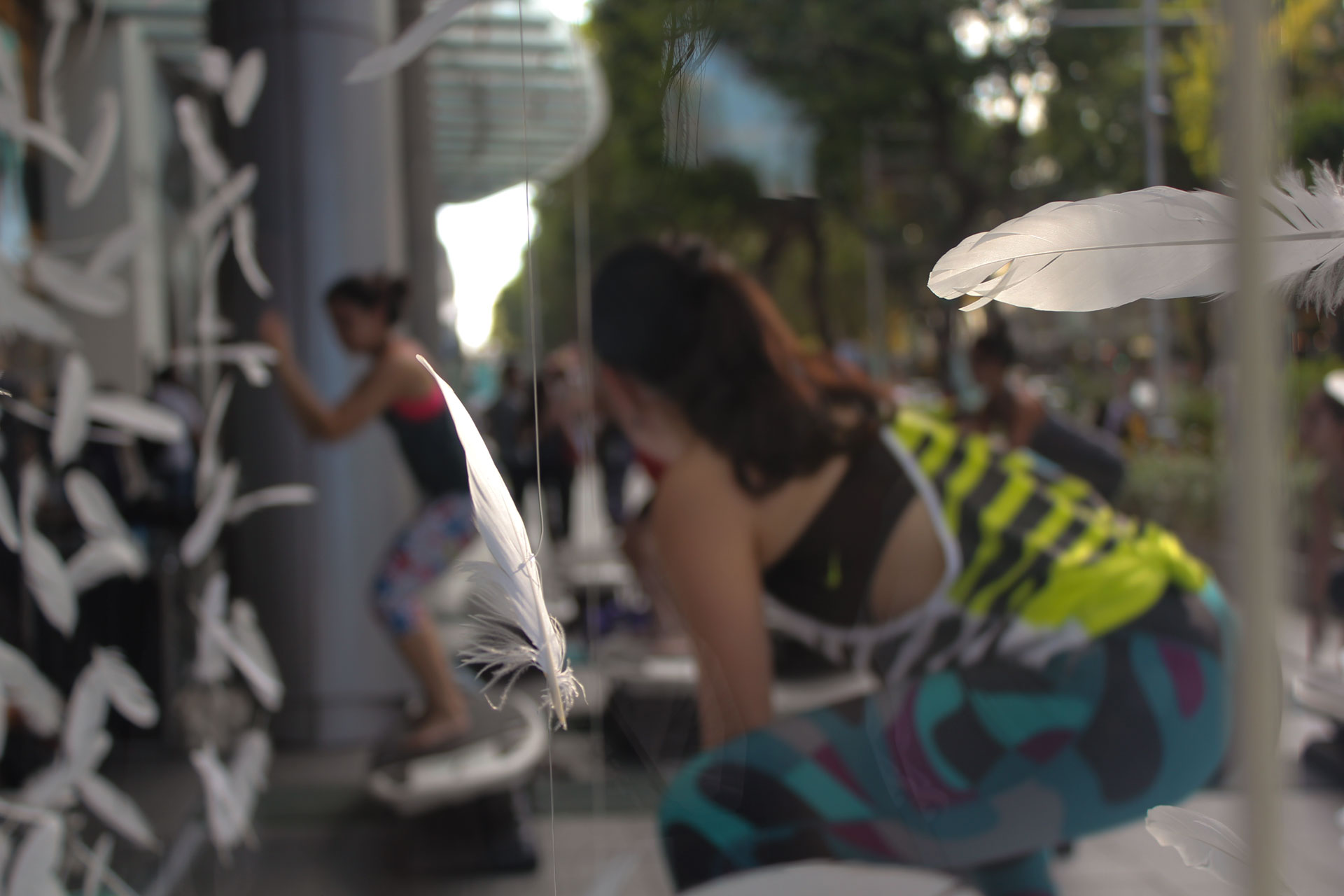 It was in this box that our instructors led the classes, with feathers floating about.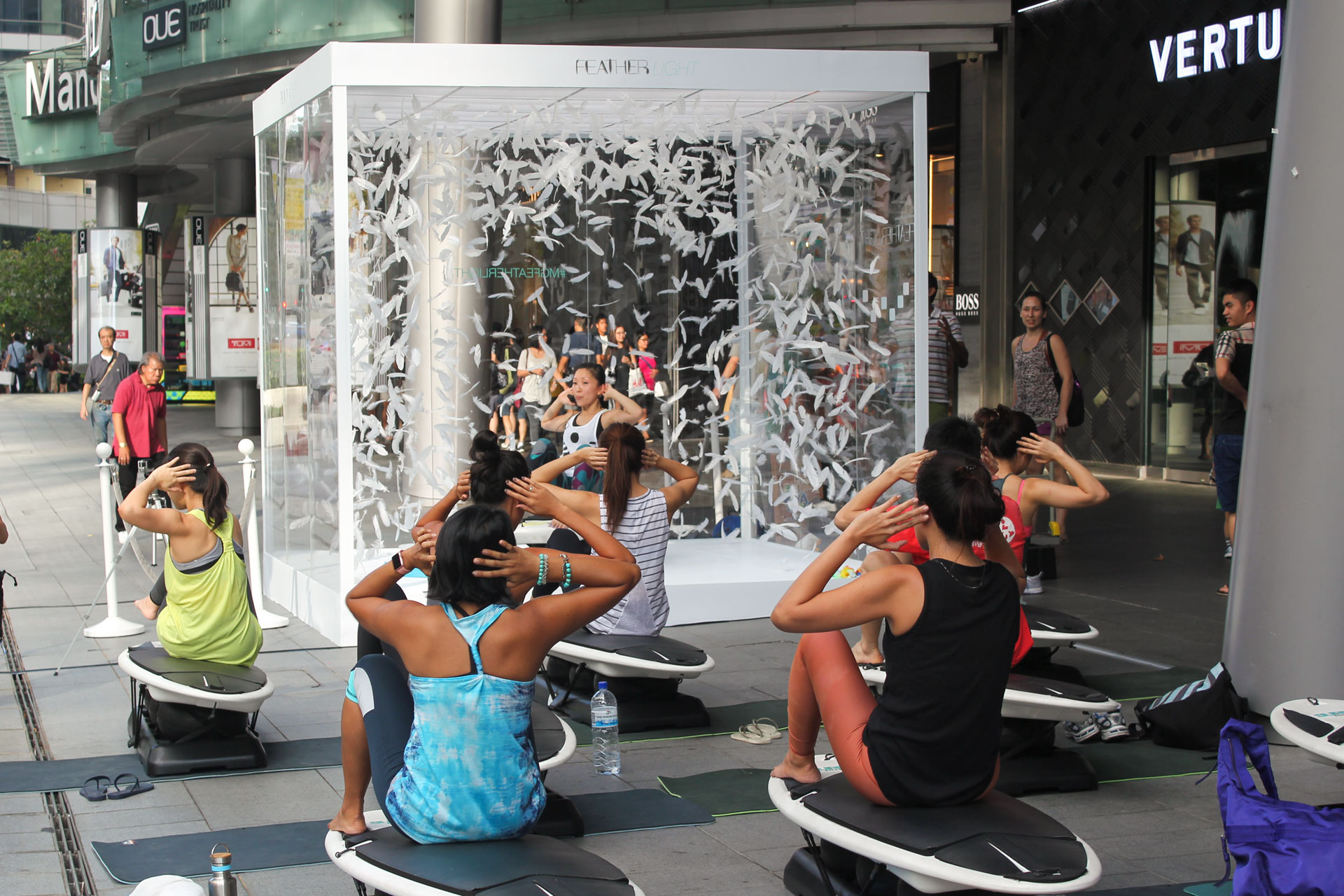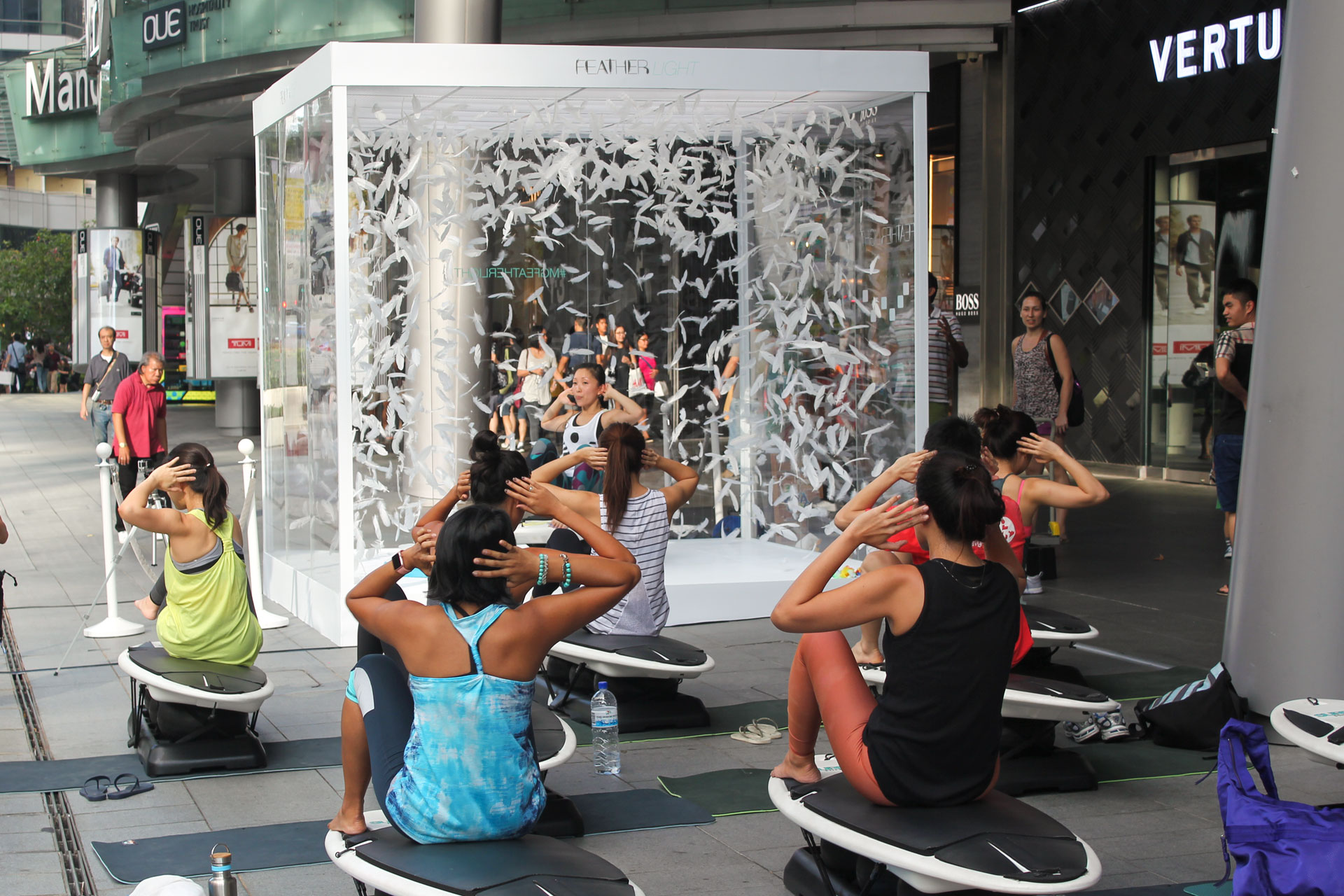 Overall, Mandarin Gallery provided us with a really nice space to hold classes, and the little stage really did help our instructors feel pretty and angelic, like surfing among clouds.
In this big, public area, our brave participants gamely did pop-ups, barrel squats, wave runners, and shark kicks on our SURFSET boards, and we think the added pressure of a few hundred spectators at a time really helped pushed them on. One thing's for sure – they all looked like they had a great time, and many of them were first-timers and found the SURFSET board to be a great challenge.
As for us? We had lots of fun! Moving boards here and there is a challenge in itself too, but we love what we do, and we love you. Enjoy some more handpicked photos of the event, and do like us on Facebook as we'll soon post up more photos and videos over there.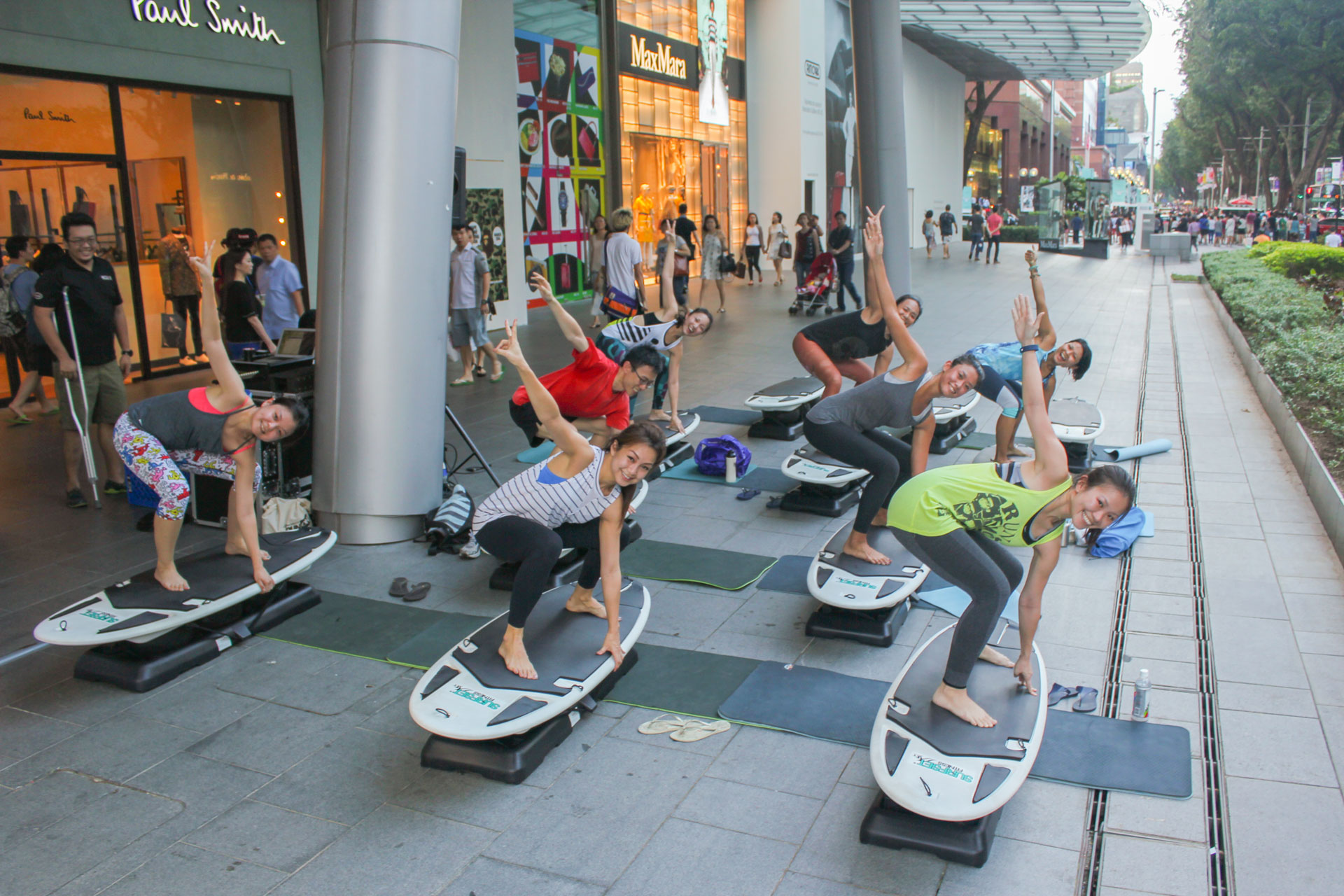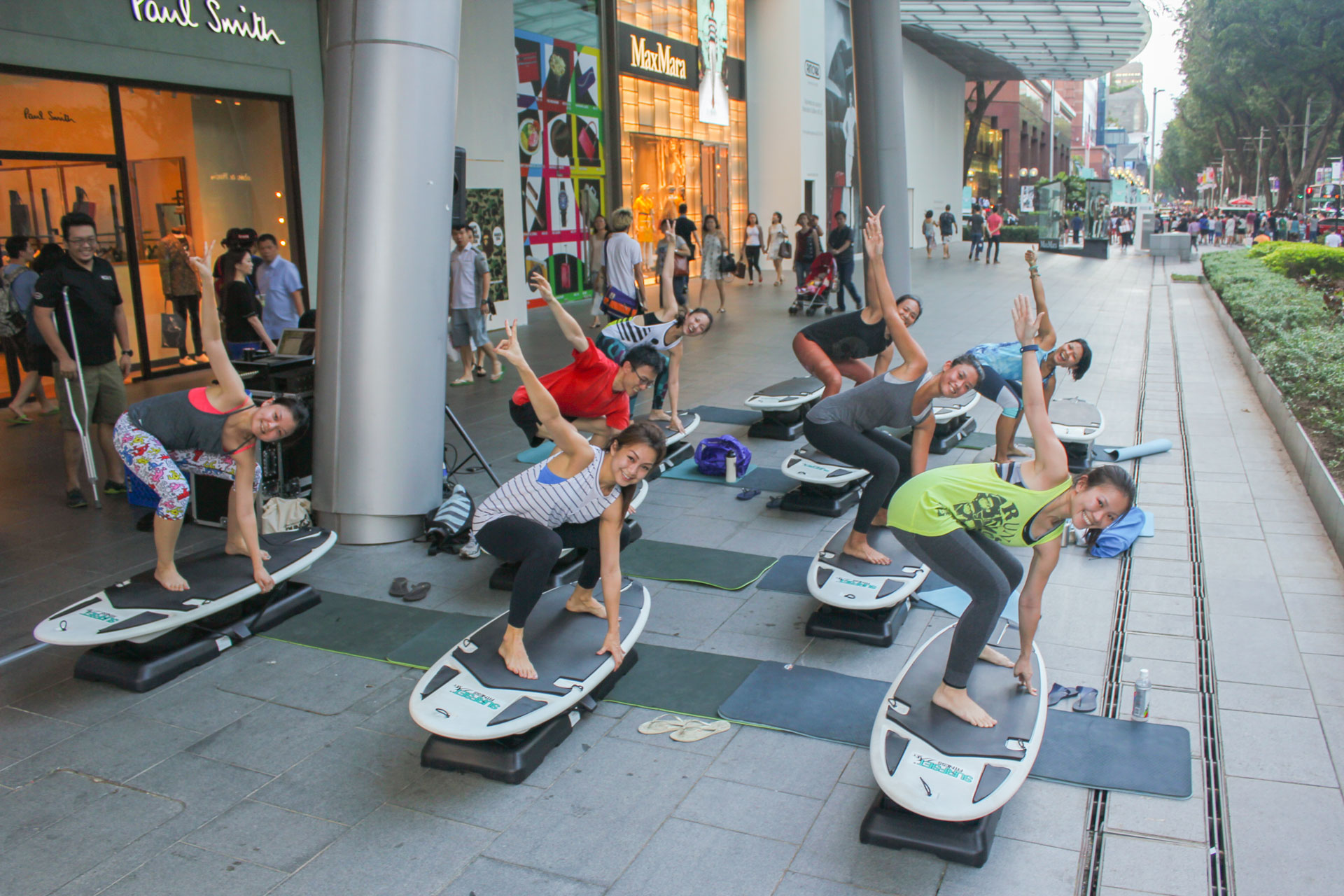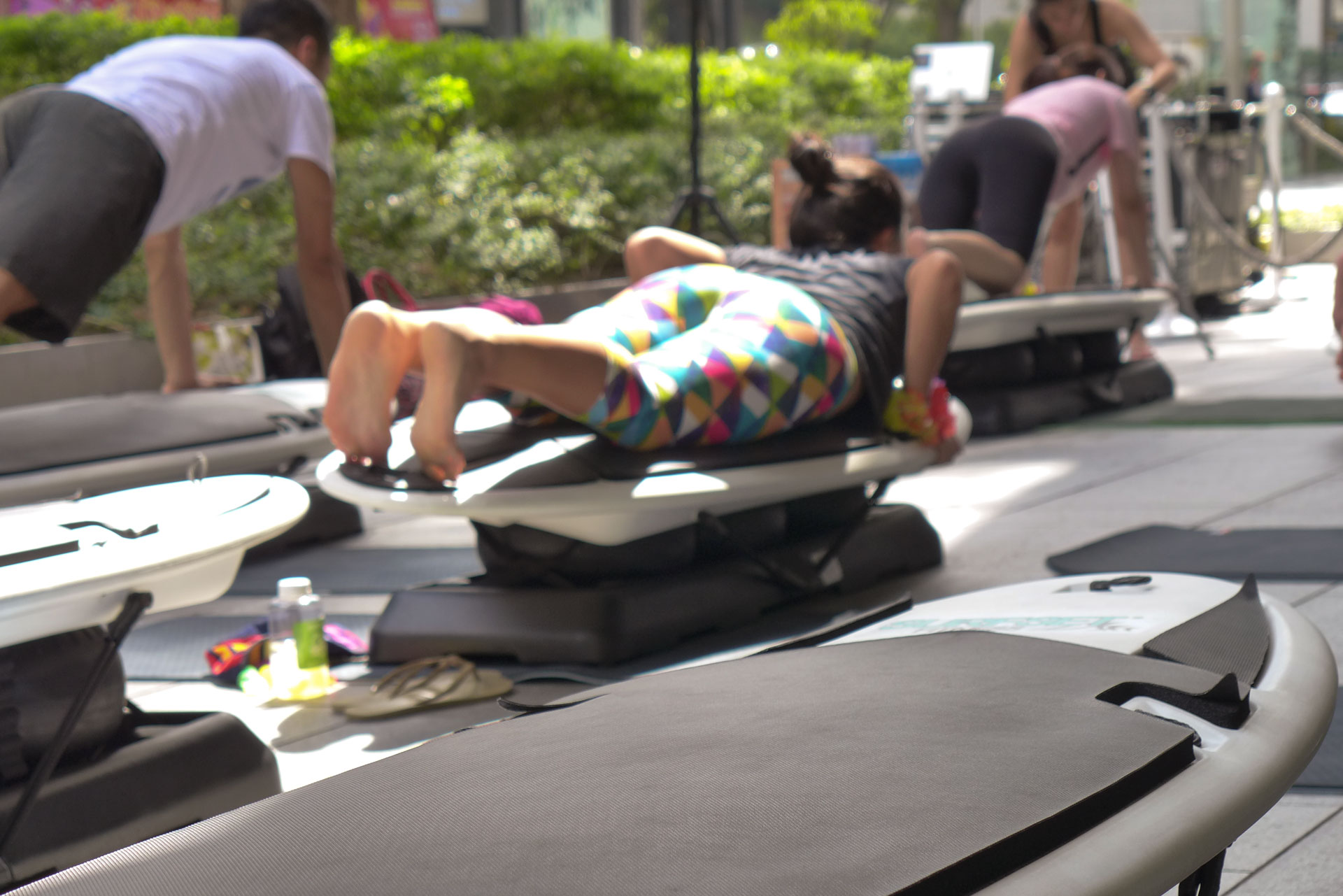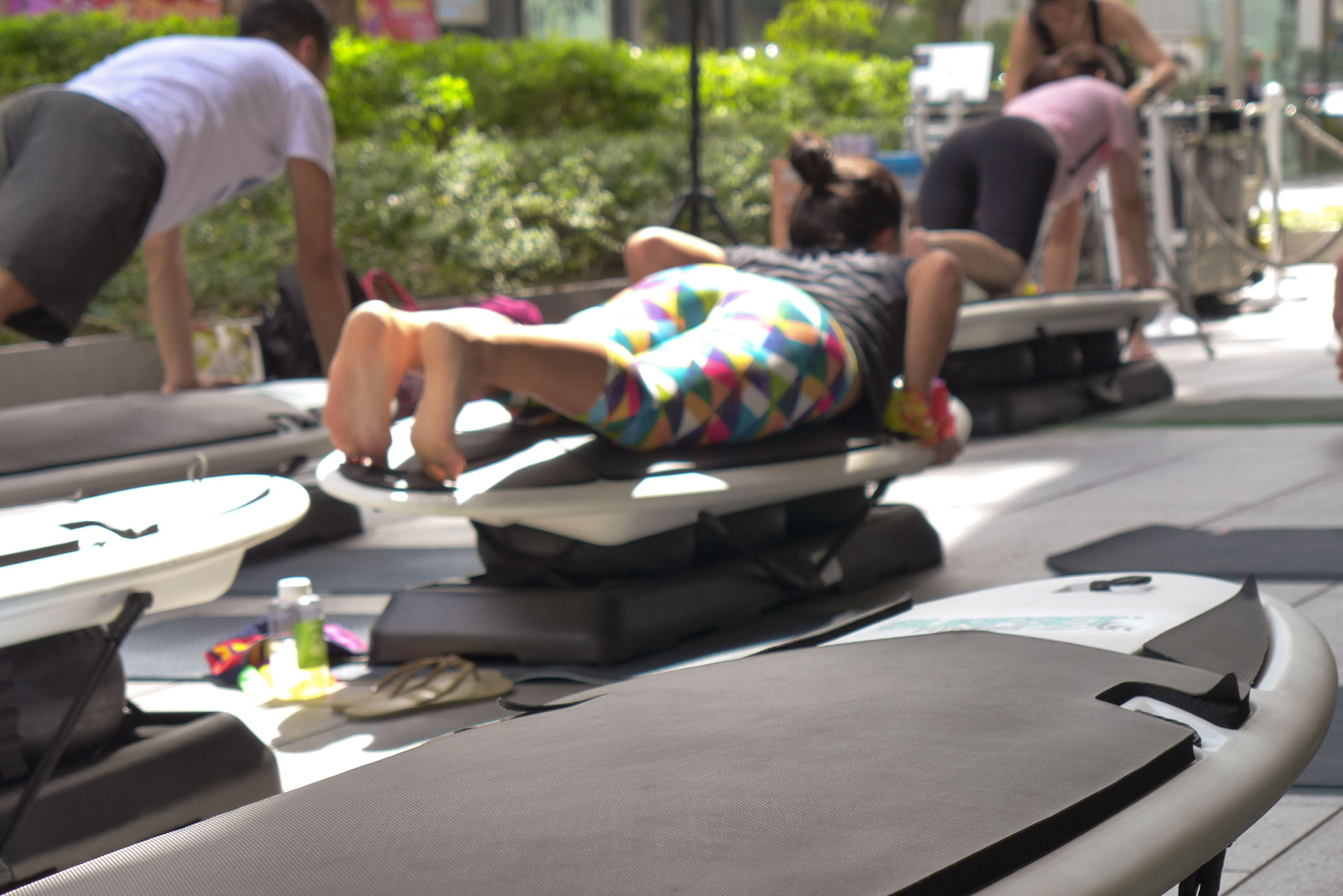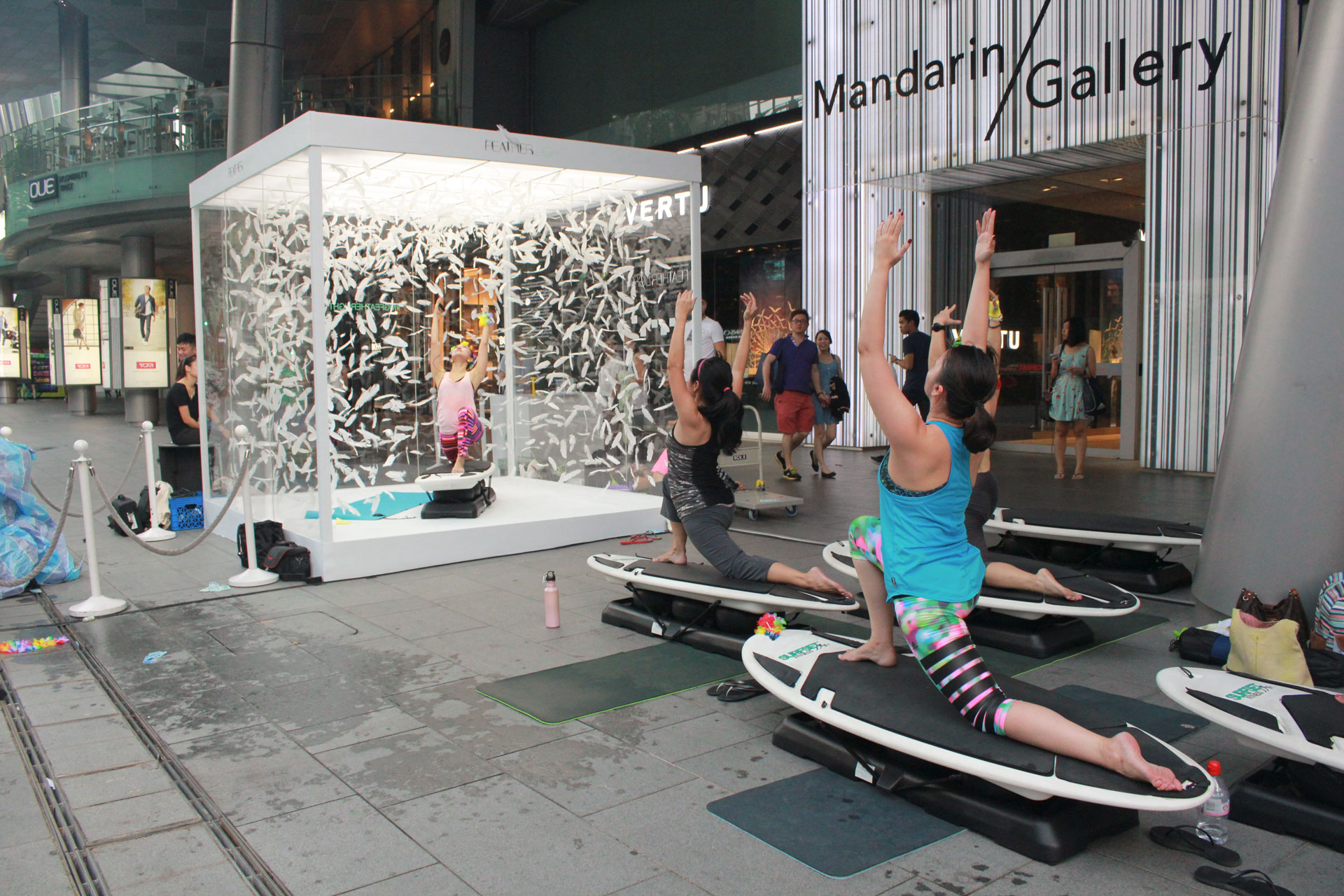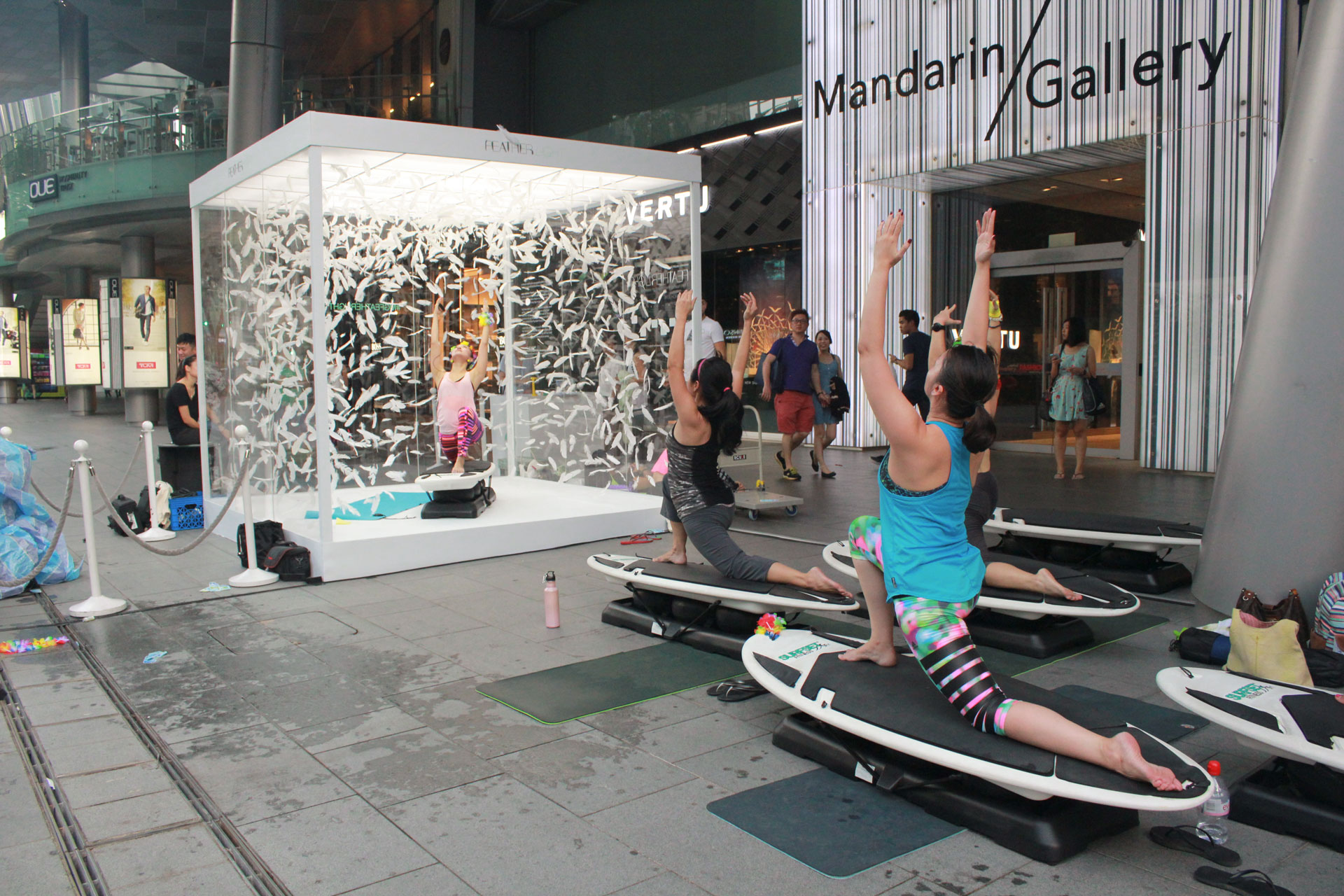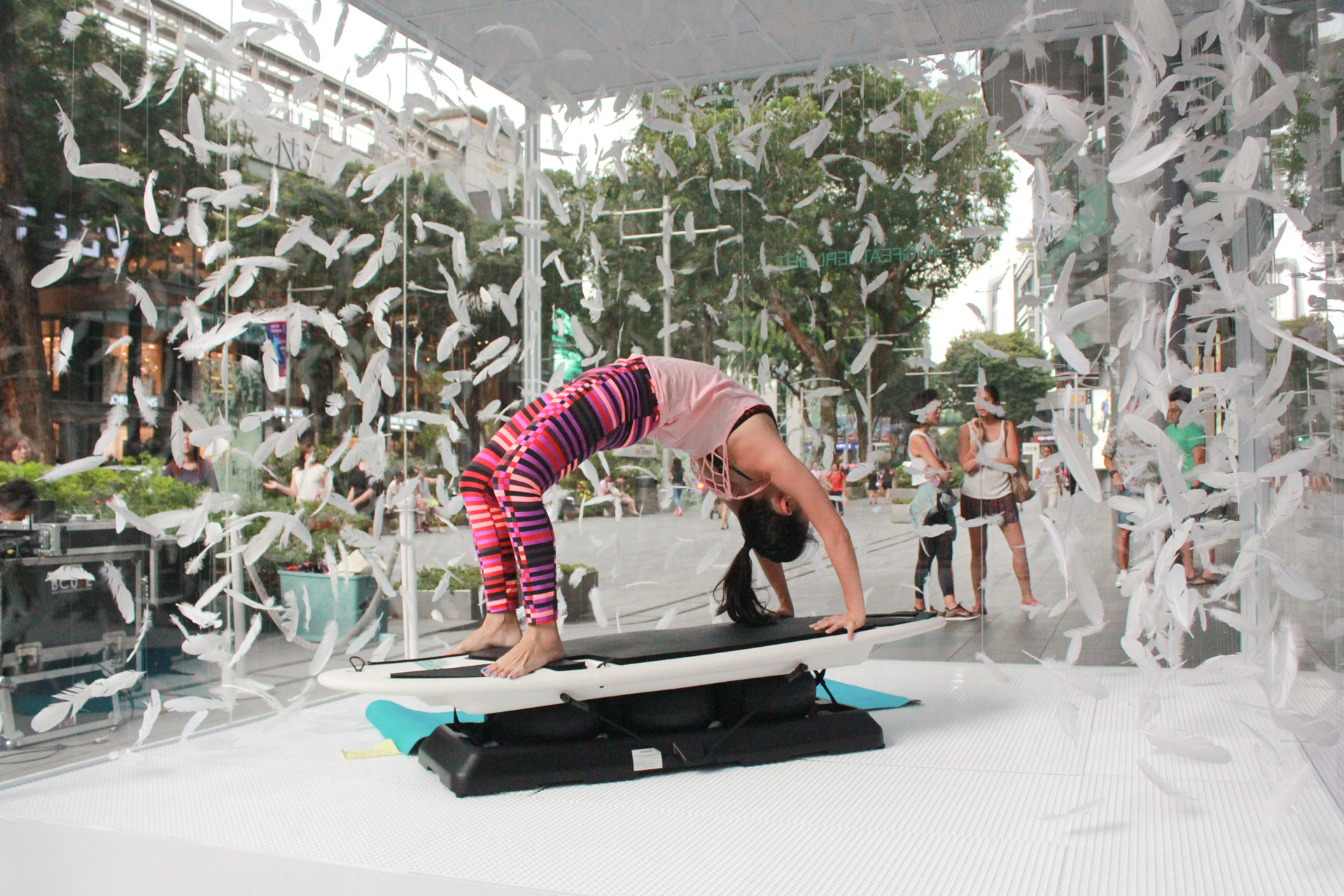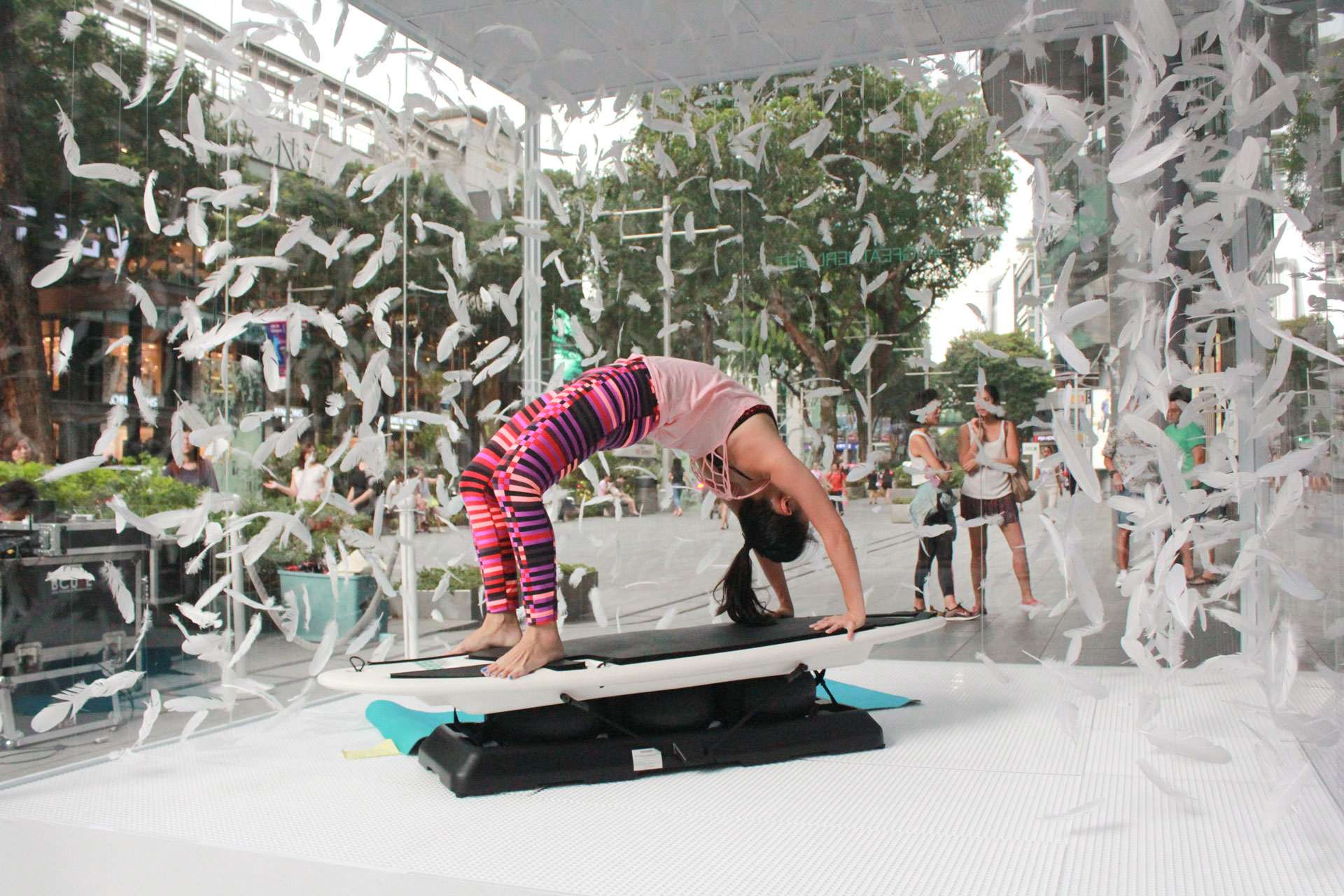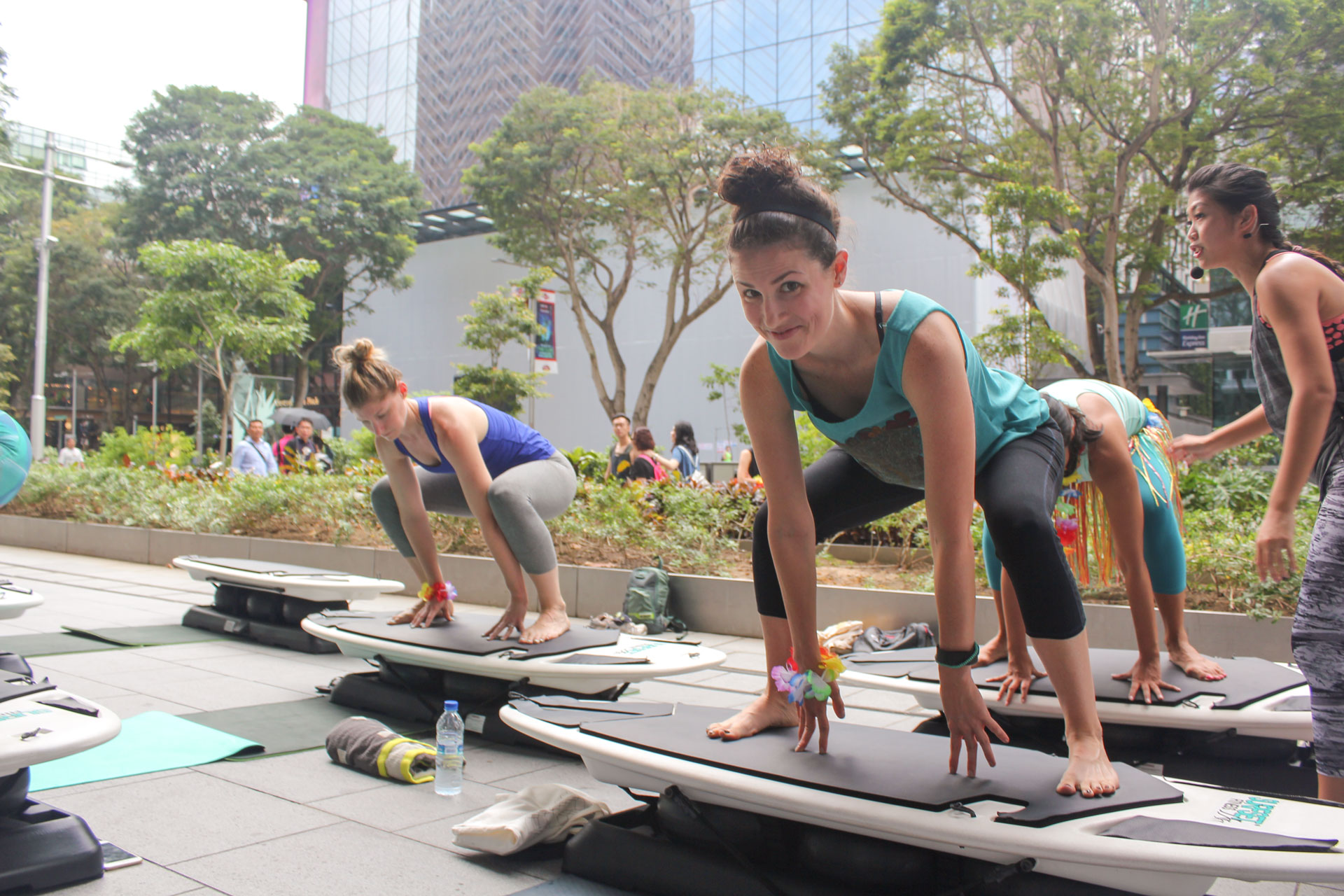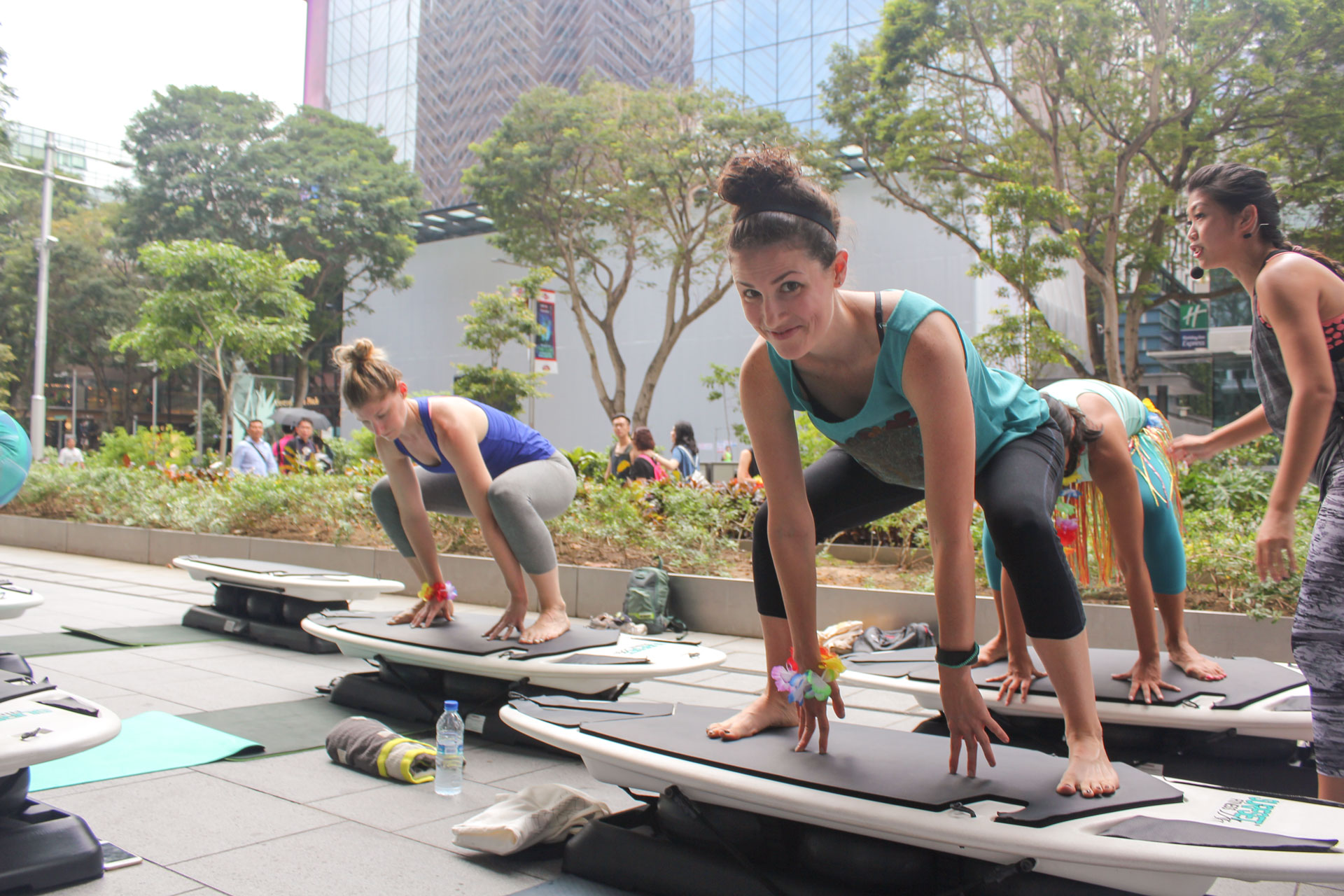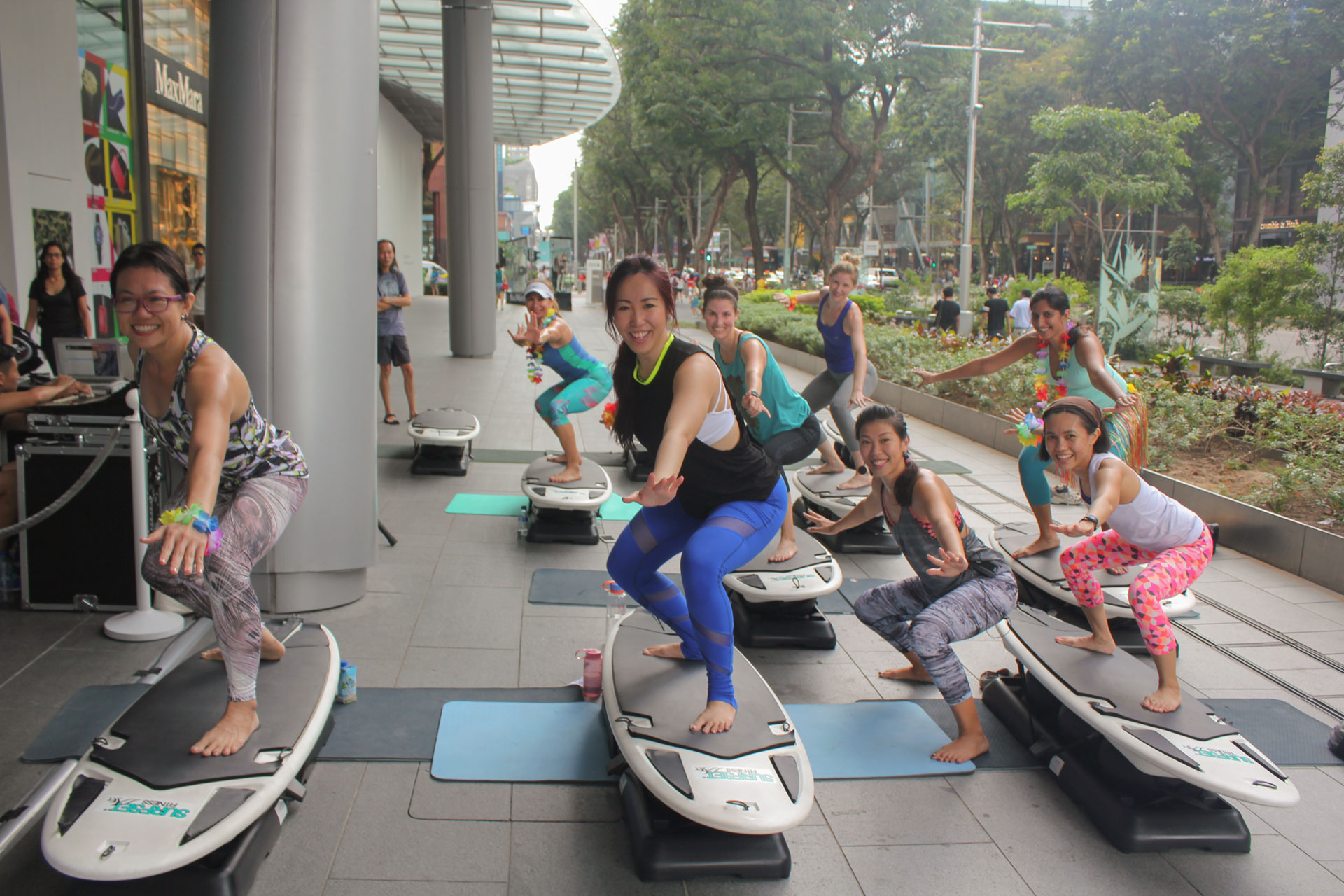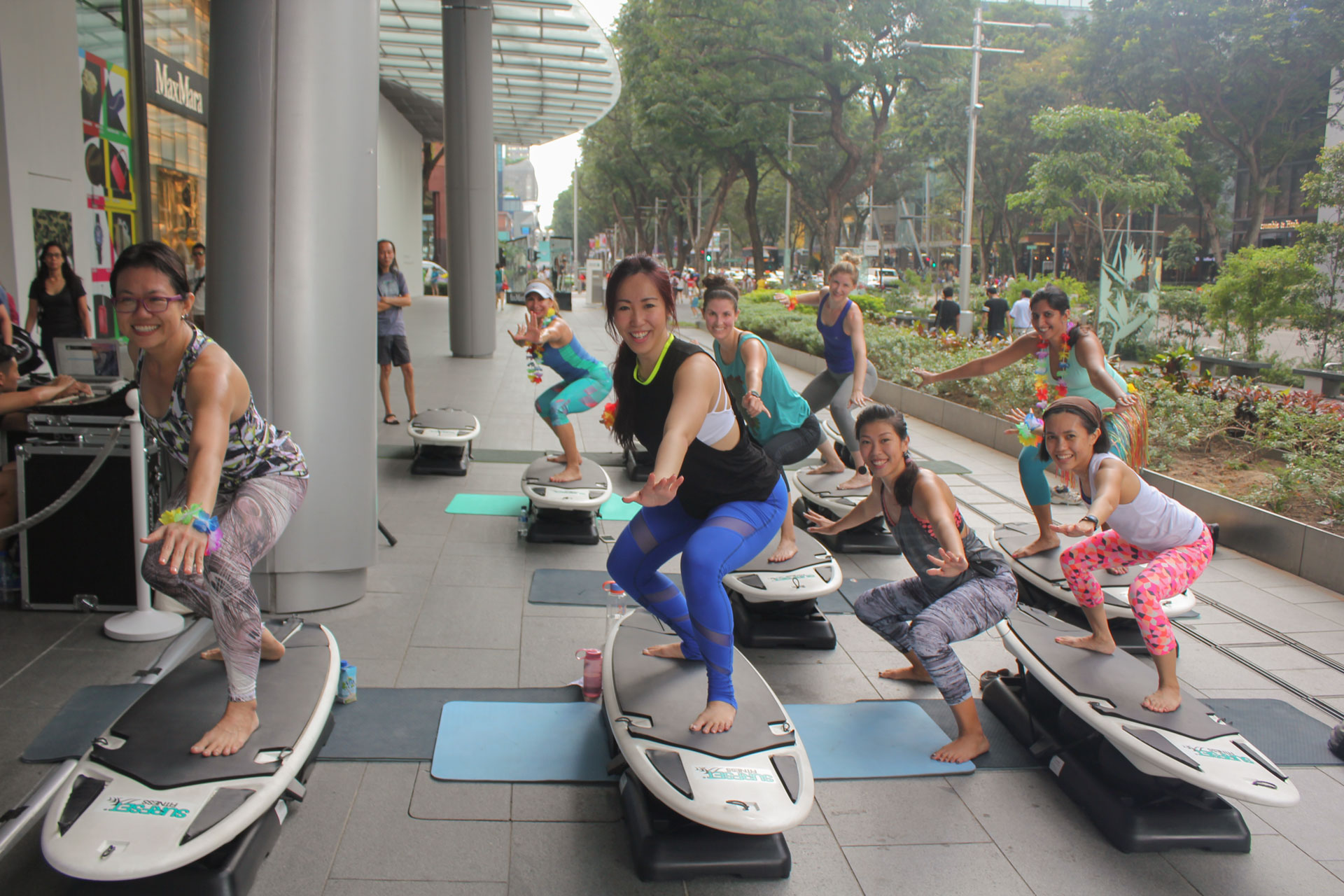 Overall, it was a great experience to be part of this event, and we're thankful to the many people and organizations who helped make this a success. Special thanks goes out to Mandarin Gallery, of course; Guavapass; NEVER; Trabbi Productions; Anglow; Adrian Wee for the specially mixed playlist; and B Cube.
We'll see you soon in our studio!
UPDATE: Photos are now up in our event album at our Facebook page! Don't forget to like us!
https://www.surfset.sg/wp-content/uploads/2016/03/IMG_2031es.jpg
1280
1920
SURFSET Singapore
https://www.surfset.sg/wp-content/uploads/2016/08/SURFSET-Fitness-Singapore.png
SURFSET Singapore
2016-03-10 17:28:38
2016-08-05 12:31:53
SURFSET at Featherlight, Mandarin Gallery