GrabTaxi Katong i12 Promotion $3 Promo Code
GrabTaxi is now running a promotion for people using their services to and from Katong i12! Get $3 off your 2 rides to 112 Katong with the promo code 112KATONG! Check out the scan of the advertisement we saw: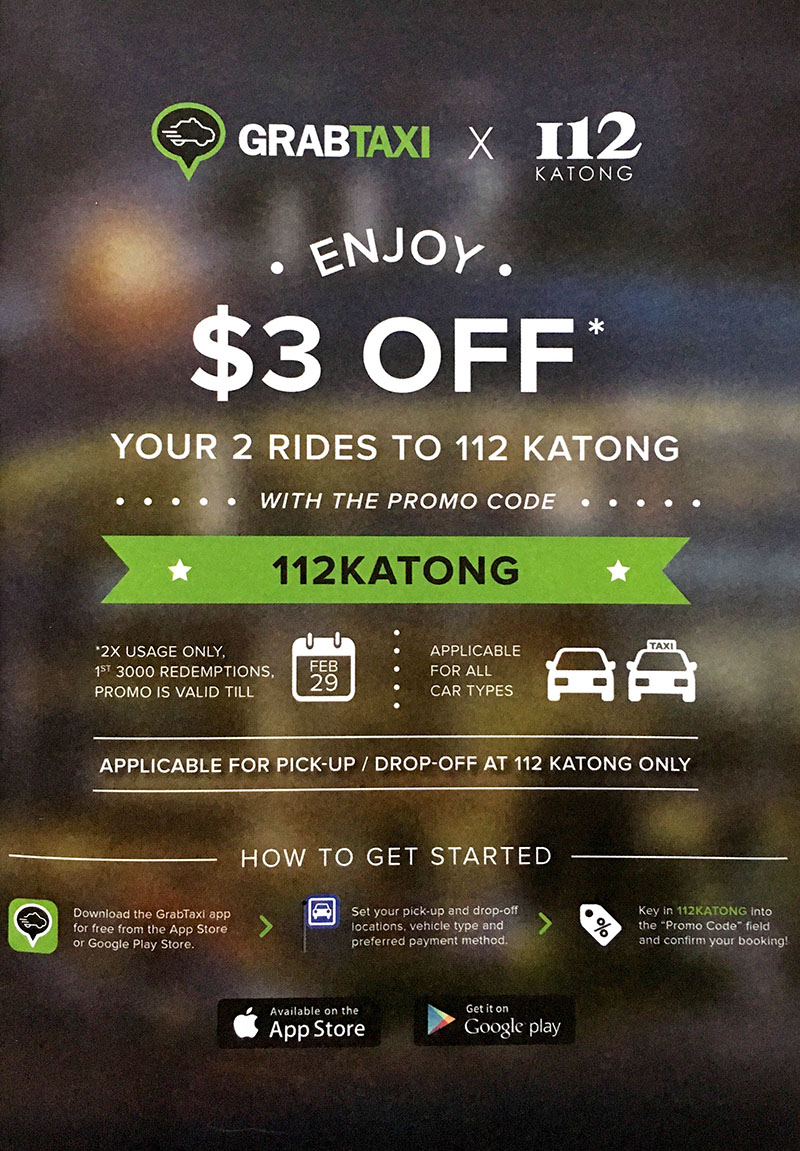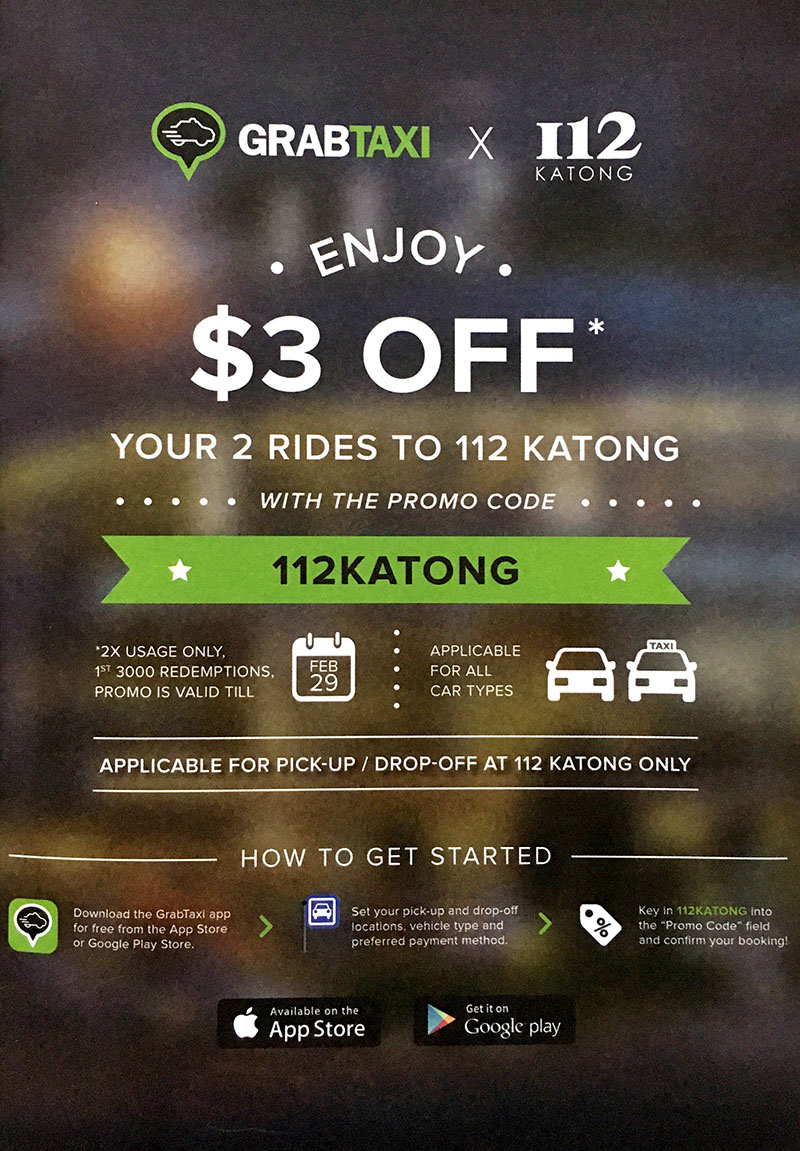 Yeah, you heard it here first! They had a previous Katong 112 promotion but only valid until 30th November 2015, so this one is going to work till Feb 29 2016. Only valid for the first 3000 redemptions, so hurry!
Why are we posting this? That's because Katong i12 is just a two minute walk from our studio! You only have to cross the road once – cross East Coast Road. Once you do that, walk along Joo Chiat Road and you will find our quaint little shophouse on your left. Now, thanks to GrabTaxi, getting to our studio is even easier!
GrabTaxi
GrabTaxi is a taxi and car booking app (Android or iOS) that connects passengers directly to drivers from all taxi operators. Just use the app on your mobile device, and it auto detects your current location and tells you the estimated metered fare to your destination. It locates nearby drivers in real-time and assigns you a driver and a car, whom you can track on your device itself.
For this promotion, it's valid for the first 3000 redemptions but only to and from Katong i12 – so if you're going to take a GrabTaxi car to SURFSET, please do alight at Katong i12 and take a short walk. You can also use it to go home after class – just walk over to Katong i12 and use the app to get a taxi there! In our opinion, it's definitely worth that 3 to 4 minute walk to save that three bucks. Unless your legs are buckling and giving way after class, which means you need more SURFSET sessions.
Also, in using the app, please make sure to follow the instructions with the promo code to get the deal.
i12 Katong
In case you haven't been to the East for a while, i12 Katong (also called 112 Katong) is the shopping mall located at the intersection of East Coast Road and Joo Chiat Road. For the older folks, you may remember Katong Mall, the old building that was replaced by this swanky new one. Being such a short distance from our SURFSET studio, we regularly go there for our shopping, movie, and dining needs. It's always a great bonus to be near to big shopping mall – extra points if that shopping mall has lots of great food options and a cinema. The way we see it, this shopping mall hits all the right spots! It has a Golden Village Cinema, a Marketplace supermarket, and tons of yummy restaurants. Check out the list of stores and dining places.
How to get from Katong i12 to SURFSET
Let's say you've decided to go ahead and grab a taxi with GrabTaxi to go to Katong i12. Delighted that you saved $3, you went on to have a great time at Katong i12 eating watching movies, until you decide that you need to burn off a few calories with SURFSET. Also, assume that you did everything in line with studio policy – make a reservation for a board etc. (it's messing with our hypothetical scenario but we just have to mention it). You hate wandering around feeling lost, and you haven't got a GPS. How do you get to SURFSET?
We made this beautiful, artisanal, handcrafted map as a reference guide.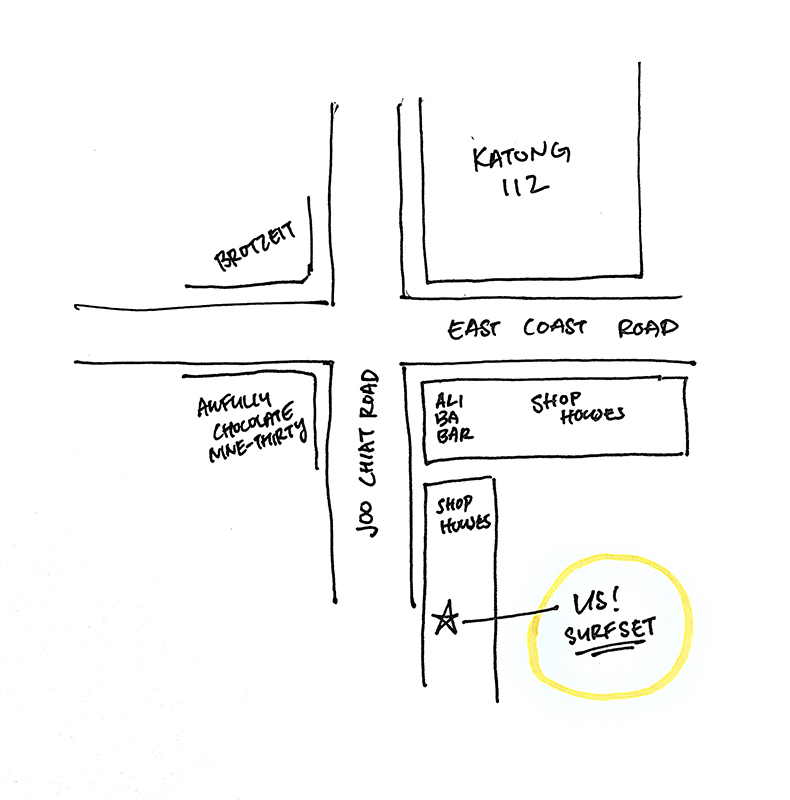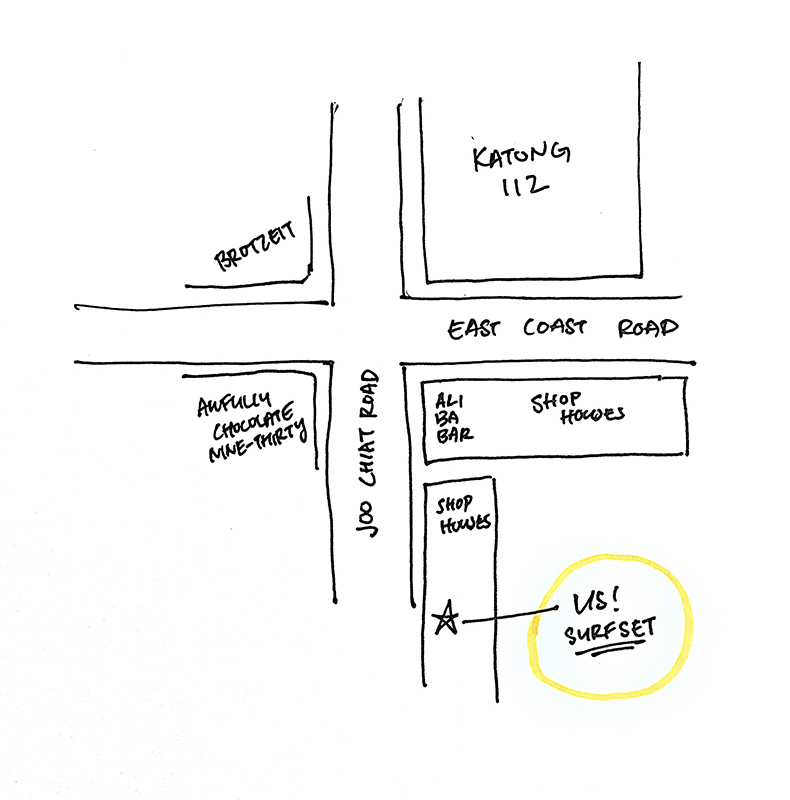 Feel free to print it out to use. Map is NOT drawn to scale.
We think that it's awesome that all the landmarks are eating and drinking spots like Ali Ba Bar, Nine-thirty, and Brotzeit!
If you ever get lost, just give us a call and we'll be happy to help.
Lastly, do note that we are not in any way affiliated to GrabTaxi or Katong i12. We're just sharing the love they're giving out. Cheers!
https://www.surfset.sg/wp-content/uploads/2015/12/GrabTaxi-i12-Katong.jpg
1151
800
SURFSET Singapore
https://www.surfset.sg/wp-content/uploads/2016/08/SURFSET-Fitness-Singapore.png
SURFSET Singapore
2015-12-01 16:15:06
2016-08-05 12:33:08
GrabTaxi Katong i12 Promotion $3 Promo Code