SURFSET on today's Today newspaper!
Have you read the papers today?
If you did, you may have come across a huge photo of our instructor Shuyi chilling out on our SURFSET board – SURFSET Fitness is featured in the Style & Beauty section of today's Today newspaper!
We love the title! The Great Singapore Workout really reflects the state of fitness in Singapore, where people are getting more health conscious and working out more. The article by Marianne Wee-Slater is all about the burgeoning demand of new fitness trends and how they are being met by independent fitness operators, and includes information on the fun and unique workouts you can find on our sunny island. We're listed together with the likes of Upside Motion, Saberfit, and Bouncefit.
Marianne also chats with Shuyi and gets her take on the unique/boutique fitness trends in Singapore, and Shuyi sagely says:
We find that Singaporeans are quite savvy when it comes to whether a new fitness trend is a compelling, long-term programme, or just a quick fad, so for a new fitness regime to have staying power, it has to be relevant and effective.
She adds:
We've had clients admitting they came for their first class just to get a taste of our new "fitness fad", but were totally unprepared for the full-body workout they got, and were not expecting to see results in so few sessions.
What can we say? We've all been through Shuyi's classes, and it's a familiar message we hear from many clients. It's a mixture of awe and fear – they love the results but Shuyi's kind of hardcore. For us – we think it's totally worth it, and training hard is kind of the point, isn't it?
Also a shout-out to Simone Heng, who spoke to Marianne about the fitness scene here in Singapore. She's a SURFSET regular, and she calls herself uncoordinated, but we respectfully disagree. Look at this!
To read more, get your copy of Today Newspaper, or take a look here at the scan of the full article that we're keeping as a souvenir. You can also see the scan on the Today Interactive Paper at this link, though we're not sure if it'll work forever.
No paper? No fret! Shuyi also spent some time as a "Top Story" of the Today Online website!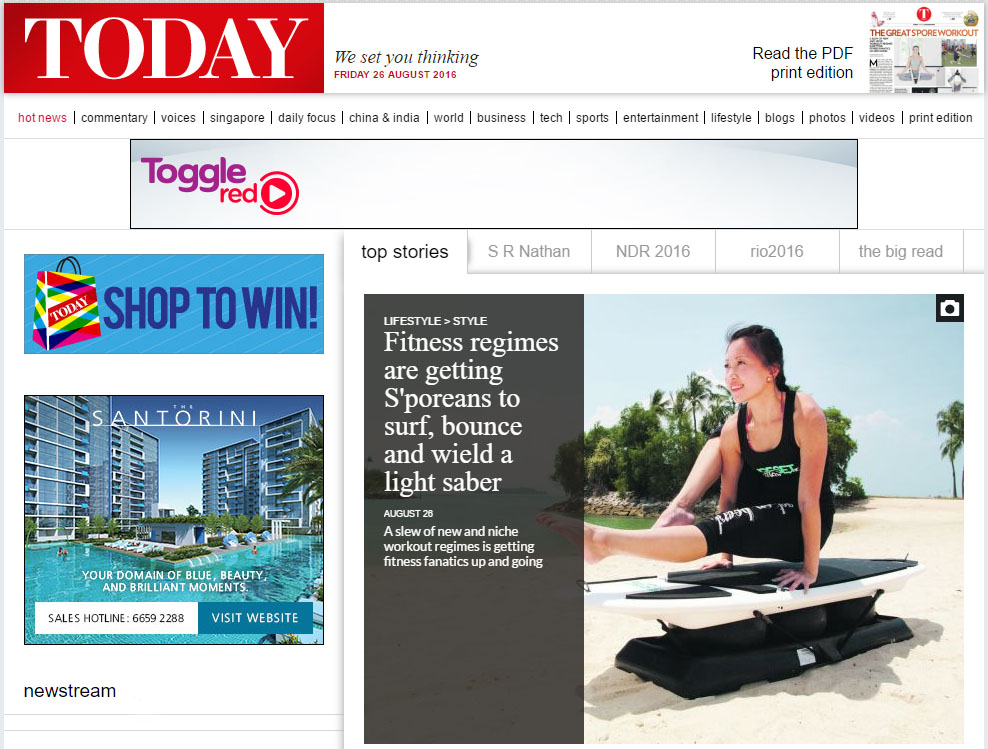 You can read the online article here.
Getting fitness fanatics up and going, indeed. Come on, you! Stop reading articles online and get up and going!
https://www.surfset.sg/wp-content/uploads/2016/08/SURFSET-on-TODAY-newspaper.jpg
1440
1920
SURFSET Singapore
https://www.surfset.sg/wp-content/uploads/2016/08/SURFSET-Fitness-Singapore.png
SURFSET Singapore
2016-08-26 16:32:42
2016-08-27 11:29:06
SURFSET on today's Today newspaper!